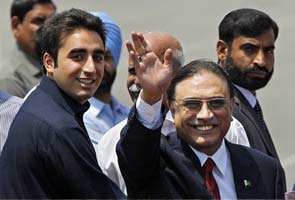 Islamabad:
In a big setback for Pakistan President Asif Ali Zardari, his Prime Minister Raja Pervez Ashraf has agreed to re-open draft cases against him. For more than two years, Pakistan government has resisted judges' demands to reopen investigations against Mr Zardari, arguing he enjoys immunity as head of state.
Mr Ashraf, who appeared in the country's Supreme Court today to face a contempt charge for refusing to revive the graft cases against President Zardari, gave in today, saying "I want to be remembered with a good name. I hope the issue is resolved; elections are not that far and we should act wisely."
The Pakistan Supreme Court has now asked the PM to revoke a letter of the Attorney General asking for closure of the cases against Mr Zaradari. It has also asked Mr Ashraf to hand over authority to the Law Ministry and draft a letter sanctioning re-opening of the corruption cases within the next two or three days. The PM has sought exemption from appearing in court again.
Mr Ashraf is the second Prime Minister to face the Supreme Court regarding the case. In June, the court had disqualified his predecessor, Yousuf Raza Gilani, after convicting him of contempt for not acting on repeated orders to revive the corruption cases against Mr Zardari.
The court had ordered the Prime Minister to comply with an order to write to authorities in Switzerland asking them to reopen multimillion dollar corruption probes into the president. Mr Gilani was thrown out of office for refusing to write to the Swiss.
The allegations against Mr Zardari date back to the 1990s, when he and his late wife, former premier Benazir Bhutto, are suspected of laundering $12 million allegedly paid in bribes by companies seeking customs inspection contracts.
In 2009, the court overturned a political amnesty that froze investigations into the president and other politicians, ordering that the cases be reopened.