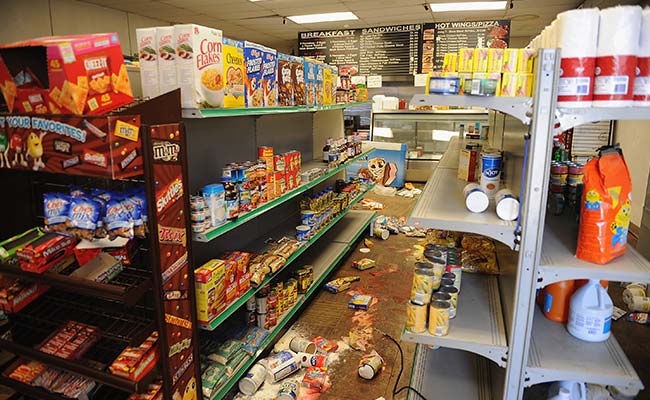 About 200 people attended a vigil in St. Louis on Thursday near where a black teenager was killed by police a day earlier, sparking angry clashes between residents and officers amid rumors the victim was only 13 years old, a city alderman said.
Thursday's vigil was peaceful following a night of unrest on Wednesday, when officers reported they had been targeted with bricks and bottles and used tear gas to disperse angry crowds, said a St. Louis Metropolitan Police Department spokeswoman.
St. Louis Alderman Antonio French posted images on his Twitter page of people at the vigil holding candles, hugging and making buttons that call for unity in the community.
Wednesday's shooting came less than two weeks after the St. Louis area was flooded with protesters from around the country marking the anniversary of the August 9, 2014, police killing of unarmed black teenager Michael Brown by a white police officer in nearby Ferguson, Missouri.
Brown's death was one of a series of police killings of unarmed black men and teens across the United States that sparked a newly energized civil rights movement under the banner "Black Lives Matter".
St. Louis police said the officers involved in the latest shooting used their service weapons after 18-year-old Mansur Ball-Bey pointed a gun at them. Ball-Bey was struck four times and killed, police said.
The officers were serving a search warrant in a crime-ridden neighborhood when they saw two young black men flee the house, and a short chase ensued, police said.
The gun Ball-Bey pointed at officers was one of several stolen firearms recovered at the scene, along with crack cocaine, said St. Louis Police Chief Sam Dotson.
French said protests that broke out as word of the shooting spread had been driven partly by talk that the teen killed was only 13.
Small groups often stage peaceful demonstrations nightly in Ferguson but others, not part of organized groups, can be unpredictable, he said.
"There was a lot of misinformation out there. Many arrived angry because they heard a 13-year-old kid was killed," said French, a prominent voice in the community who regularly posts information about demonstrations on his social media feeds.
Mistrust of police accounts of Wednesday's shooting also helped stoke the unrest.
Some protesters expressed doubt over the police account of Ball-Bey pointing a gun. St. Louis police do not wear body cameras, but St. Louis Police Chief Sam Dotson said some officers videotaped the protests, during which shots were heard.
Dotson said a car was torched, some businesses reported robbery attempts and nine people were arrested.
Debate over largely white police treatment of minorities has become a hot-button political and social issue in America.
Republican senator and presidential candidate Marco Rubio said on Thursday the issue cannot be ignored.
"It's a reality that in many communities in this country the relationship between minority communities and the police and law enforcement agencies is terrible," Rubio told the Detroit Economic Club.
Police need to do more to allow for peaceful protests rather than escalate them into violence, said Amnesty International USA senior campaigner Jamira Burley, who was critical of the actions taken by St. Louis police on Wednesday.
Ferguson and St. Louis County police came under heavy criticism for their handling of the Ferguson protests, which included use of riot gear, tear gas and heavy armored vehicles, tactics many in the community said only inflamed tensions.
Images of heavily armed police aiming weapons at citizens prompted US President Barack Obama to tighten restrictions on police use of military equipment.
© Thomson Reuters 2015