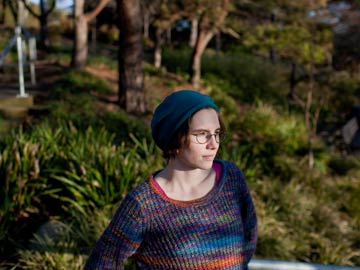 For six years, the fate of Amanda Knox has been in the hands of a succession of Italian courts, called on to determine whether on the night of Nov. 1, 2007, she killed Meredith Kercher, her roommate and fellow foreign exchange student in the university town of Perugia. On Thursday, a court in Florence is expected to present its ruling.
Knox will not be in the courtroom. She will await the verdict in her hometown, Seattle, where she has been living since an appeals court reversed her murder conviction in October 2011. Last year, the Court of Cassation, Italy's highest court, vacated the appellate court ruling and ordered a new trial, which began last fall, propelling Knox - and her former boyfriend and co-defendant, Raffaele Sollecito - back into the news.
"Nothing will ever take away the experience of being wrongfully imprisoned," Knox said in an interview last week via Skype, explaining why she had chosen not to attend, as is her right. "It remains that I would be putting myself in the hands of people who very clearly want me in prison for something that I didn't do. And I can't do that. I just can't. No. No way, no how."
The intense media attention that the case has stirred from the day that Kercher was found dead on the floor of her bedroom, her throat slit, is another reason Knox decided not to come. (Sollecito has been present for some of the proceedings.)
She says that her attempts to demonstrate her innocence have been obscured by the media's obsession with her persona - a false and misleading portrayal, in her mind - and one that could distract the jury from a fair examination of the case.
Knox said that, while her lawyers believed that she was her own best defense, they had advised her not to attend the trial.
"They said, 'If you go to the court, they're going to be paying attention to you - they're going to be looking at your face, they're going to be trying to read your gestures, they're not going to be listening, and that is a huge problem,'" Knox said.
In his closing arguments last week, one lawyer described Knox as "deceitful and diabolical" and an "explosive mine of sex, drugs and alcohol," telling the jurors that they had no choice other than to convict her.
"I'm not that person; I am very clearly not that person that's being described," said Knox, who believes that she can better defend herself through interviews given mostly to Italian and U.S. news organizations, as well as through her 2013 memoir and her blog.
In December, Knox sought to state her case, and explain her absence, in a letter that was read in court. But Judge Alessandro Nencini said, "Who wants to speak at a trial, comes to a trial."
The ages and unfulfilled promise of the protagonists - Kercher was 21 when she died, Knox and Sollecito were 20 and 23 when they were arrested - amplified the emotional impact of the case and polarized public opinion.
"People who accuse me argue that justice cannot be done for Meredith unless I am convicted," Knox said. "It's a mindset where there are criminals and there are victims, and if you're accused of being a criminal, there's no way you can be a victim."
While Kercher's family remains convinced of her guilt, Knox said the Kerchers were "so emotionally invested in this that they can't be held accountable for their wrongful ideas about me."
Knox and Sollecito were first found guilty of murder in 2009 for their role in what prosecutors described as a drug-fueled sex game that had spiraled out of control.
The prosecution's case has hinged on DNA evidence and witnesses linking the defendants to the crime. Another man, Rudy Guede, was also convicted, in a separate trial, and sentenced to 16 years in prison. Defense lawyers argue that he was the sole perpetrator, but prosecutors counter that the number and type of Kercher's wounds could not have been made by only one person.
The prosecutor in this trial, Alessandro Crini, played down the sex game aspect. Instead, he suggested that the violence had been incited by a dispute between the two roommates over the cleanliness of the apartment.
Last week, Crini urged the court to issue an immediate arrest warrant should Knox and Sollecito be convicted. In Italy, rulings must go through a final appeal, and prison time can be held off until it is concluded.
Knox, who is finishing a degree in creative writing at the University of Washington, says her life has effectively been in a state of suspension. If convicted, she could face extradition, and regardless of the verdict, her legal future will remain in limbo until a final appeal is heard.
"No one is safe; no one feels safe," she said. "I don't feel safe, and I am here in the United States. I don't know what's going to happen. I don't think that they're going to convict me. I really don't, because the evidence is not there. But the doubt comes from the fact that I never thought that I would be convicted. And then look what happened."
© 2014, The New York Times News Service