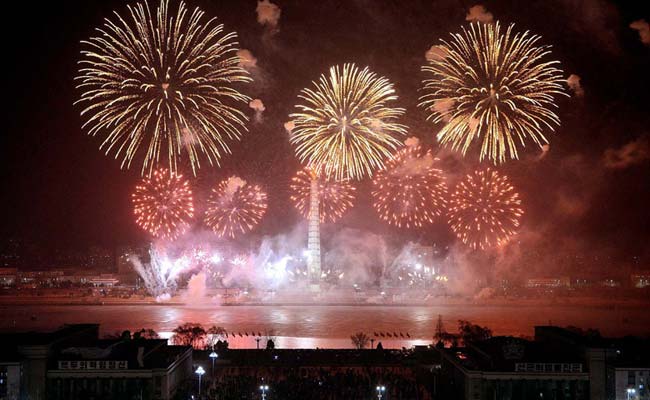 As 2016 draws to a close, many are bidding a weary adieu to a year of political surprises, prolonged conflicts, refugees and deaths of some famous people. A look at how people around the world are preparing to usher in the new year:
AUSTRALIA
After a year that saw the deaths of a seemingly endless parade of entertainers, Sydney will honour some of the most beloved. The city's famed fireworks display over the harbour will pay homage to Prince and David Bowie, and will be set to a music medley inspired by the late singers.
"We are hoping to make it rain purple this year for the first time, not only off the barges, but also off the Sydney Harbour Bridge," fireworks director Fortunato Forti said, referencing Prince's hit "Purple Rain."
The 7 tons of fireworks launched from barges on the harbor will also include a "Willy Wonka moment" in tribute to the late actor Gene Wilder's most famous role, fireworks co-producer Catherine Flanagan said. And there will be a nod to the Bowie classic "Space Oddity," with Saturn, moon and star-shaped fireworks. Bowie lived in Sydney for about 10 years during the 1980s and '90s.
"This year, sadly, we saw the loss of many music and entertainment legends around the world," Flanagan said. "So celebrating their music as part of Sydney New Year's Eve fireworks displays is an opportunity to reflect on the year that has been and what the future may hold."
Around 1.5 million revelers are expected to ring the harbor to join in the festivities. An extra 2,000 police will be on duty and buses will be used to block off certain pedestrian areas following the deadly truck-driving attacks in Berlin and Nice, France.
Officials urged residents to carry on celebrating as normal, despite the threats of extremist attacks across the globe and in Australia. On Friday, a man was arrested after police say he posted threats on social media related to Sydney's New Year's Eve celebrations. New South Wales police said he was acting in isolation and had no known links to extremist groups.
"Ultimately the best way that we can respond to the threats around the world is to fight for our freedoms, enjoy our freedoms, and part of that is ensuring that we go about and celebrate New Year's Eve," state Premier Mike Baird said.
JAPAN
Temple bells will echo at midnight as families gather around noodles and revelers flock to shrines for the biggest holiday in Japan.
"I feel this sense of duality," said Kami Miyamoto, 21, an economics student at Meiji University in Tokyo, who traveled home in Hakusan, Ishikawa prefecture, for the holiday.
"The world is heading toward conservative insular policies," she said of the U.S. election, Brexit and what she believes lies ahead for elections in Europe in 2017. "We learned about how valuable it is to get correct information."
One of the most memorable experiences for Miyamoto in 2016 was a three-week study program in South Korea. She was surprised and moved by the friendship she formed with South Korean students, and she has decided to focus her studies on relations with South Korea.
"Studying about the U.S. and Europe seems to be about looking at the past, but East Asian studies are focusing on the future," she said.
Miyamoto's mother is preparing soba noodles, a standard New Year's Eve dish in Japan, except in their home it will be filled with green onions and shrimp. As the new year rolls in, the entire family, including her younger brother and sister, will drive to a nearby shrine, which, like temples all over Japan, will be filled with those praying for good fortune in the Year of the Rooster, according to the Chinese zodiac.
Togo Inomata, who also goes by his rapper name of "Ogesa Taro," which means "Talking Big Taro," says Okinawa, the southernmost main island where he lives, is less influenced by New Year's traditions. He and the family who has invited him for dinner will watch the sunrise on the beach in a moment of prayer.
"I feel we are heading toward an era of chaos, but the individuals who are truly aware will be able to overcome this chaos," he said.
(This story has not been edited by NDTV staff and is auto-generated from a syndicated feed.)