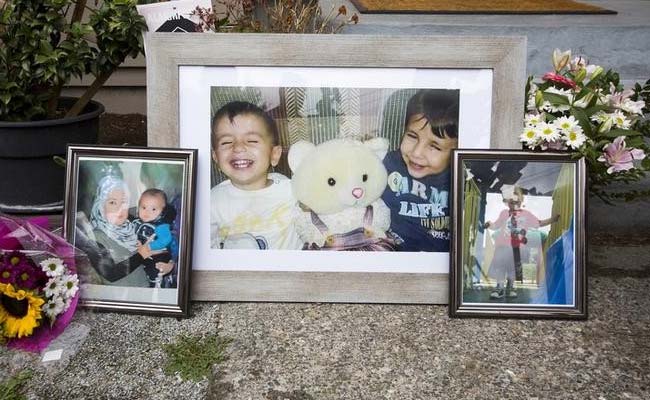 LONDON:
World leaders attending two major summits on the global refugee crisis this month must step up actions such as keeping families together and scaling back detention to stem the growing number of children in danger as they flee war, the head of UNICEF said on Wednesday.
Some 28 million children globally have been driven from their homes by conflict, and another 20 million children are uprooted due to extreme poverty or gang violence, the U.N. children's agency said in a report tied to the September 19-20 meetings.
Children, often already traumatised by violence, risk drowning in sea crossings, falling into the hands of traffickers, kidnapping, rape and murder, UNICEF said.
"Indelible images of individual children - Aylan Kurdi's small body washed up on a beach after drowning at sea or Omran Daqneesh's stunned and bloody face as he sat in an ambulance after his home was destroyed - have shocked the world," UNICEF Executive Director Anthony Lake said in a statement.
"But each picture, each girl or boy, represents many millions of children in danger - and this demands that our compassion for the individual children we see be matched with action for all children," he said.
Syrian toddler Kurdi drowned in the Mediterranean last year as his family tried to reach Greece. Daqneesh has become the most recent searing image of the suffering of Syria's children during more than five years of war.
UNICEF's global policy chief David Anthony said its report, which compiles comprehensive global data on refugee and migrant children, was "a sad and sobering wake-up call".
The number of child refugees more than doubled in the last decade as 15 conflicts have broken out or reignited, he said.
Of the 28 million children driven from home by violence and conflict, 10 million are refugees, one million are asylum-seekers and another 17 million children have been forced from their homes within their own countries, he said.
That means one in every 200 children globally is a refugee, he said.
"We must act now if we are to save tomorrow's Aylan Kurdi before it's too late. The eyes of history are upon us," he told a London briefing by videolink from New York.
UNICEF urged world leaders to focus on actions to protect child refugees and migrants, including ending the detention of children seeking asylum, keeping families together, combating xenophobia and ensuring uprooted children can stay in school.
The number of child refugees jumped by more than 75 percent between 2010 and 2015, UNICEF said, with Syria and Afghanistan accounting for almost half.
Anthony said one of the most disturbing aspects is the growing number of children crossing borders by themselves.
Last year, more than 100,000 unaccompanied minors applied for asylum in 78 countries - triple the number in 2014.
Unaccompanied children are among those at the highest risk of exploitation and abuse, including by smugglers and traffickers, the report said.
The U.N. summit, the first of its kind, aims to forge a more humane and better coordinated international response to refugee and migrant crises.
It will be followed by a summit of world leaders hosted by U.S. President Barack Obama aimed at galvanising promises of new funding and boosting refugee resettlement.
© Thomson Reuters 2016