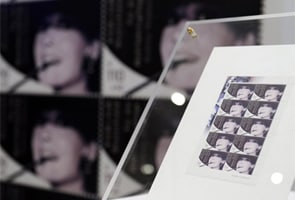 Berlin:
A rare collection of 10 stamps depicting Audrey Hepburn fetched 430-thousand euro (606-thousand US dollars) at a charity auction in Berlin on Saturday, two-thirds of which will help educate children in sub-Saharan Africa.
The mint-condition sheet of 10 stamps featuring Hepburn, a coy smile on her face and a long, black cigarette holder dangling from her lips, brought a profitable outcome to a botched stamp series that should have been destroyed years ago - and evokes Hepburn's starring role in the 1963 thriller "Charade," in which the characters chase a set of rare stamps.
The German postal service printed 14 (m) million of the Hepburn stamps in 2001 showing the Belgian-born actress in her most famous role as the ebullient Holly Golightly in "Breakfast at Tiffany's."
Only after the stamps were printed was Sean Ferrer, 50-years-old, Hepburn's son and the chair of the Audrey Hepburn Children's Fund, contacted to grant copyright - but he refused, arguing that the image had been altered.
Ferrer said he was thrilled that the sale on Saturday brought "focus on children in need," but wished the stamps had sold for a higher price.
He added that the family are so proud that his mother is remembered as a "humanitarian and the movie star, not the movie star and the humanitarian."
Two-thirds of money raised will go to the Audrey Hepburn Children's Fund, and one-third to UNICEF (UN International Children's Emergency Fund) Germany.
Between 2004 and 2009, four other Hepburn stamps turned up and were authenticated.
They sold at auction for between 62,500 euro (87-thousand US dollars) and 173-thousand euro (242-thousand US dollars).
Other items were auctioned on Saturday included a pair of Hepburn's black ballet slippers which went under the hammer for 9000 euros (12,500 US dollars) and a portrait of the actress.
"I feel wonderful about the fact that something that belonged to her today can bring focus on children in need all over the world," Ferrer said.
Hepburn was a UNICEF ambassador from 1988 until shortly before her death from colon cancer in 1993.