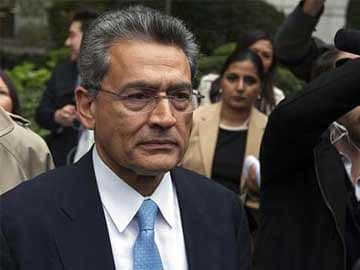 New York:
A US court had denied Rajat Gupta - convicted for insider trading - permission to visit India in February for a family wedding, citing flight risk posed by the former Goldman Sachs director.
Mr Gupta, 65, had written to US District Judge Jed Rakoff on February 13 seeking to "modify his release conditions" to permit him to travel to New Delhi from February 27 to March 10, 2014 to attend his nephew's wedding.
But the US District Court for the Southern District denied his request, citing "strong motivation" for the Mr Gupta to use the occasion to flee to his native country.
Mr Gupta was convicted on insider trading charges in June 2012.
Federal prosecutor Richard Tarlowe had submitted in court that Mr Gupta should not be allowed to travel to India for 11 days.
Mr Gupta had made the request to travel to India in February while his appeal to throw out his conviction on insider trading charges was still pending in federal court.
The IIT and Harvard Business School alumnus suffered a setback after the court yesterday upheld the verdict of the trial court that had sentenced him to two years in prison on insider trading charges.
Judge Rakoff, who had presided over Mr Gupta's trial in the summer of 2012, said in his February 24 order denying Mr Gupta's request to travel to India that there is significant flight risk if Mr Gupta is allowed to travel to his homeland, with which he has "immense ties".
Judge Rakoff said Mr Gupta's "motivation to flee is inherently strong at this juncture" when the "only thing" that stands between him and his imprisonment was his pending appeal.
"India would be the ideal place for him (Gupta) to flee. He has immense ties to that country and more than significant assets with which to maintain a comfortable life there. If his application (to travel to India) were granted, he could enter India lawfully with excellent opportunities to delay extradition for years or avoid it altogether," Judge Rakoff had said adding that the wedding could take place in Mr Gupta's absence.
The judge also said that Mr Gupta's family, could "readily visit" him there or even "relocate" if Mr Gupta settles in India.
While Mr Gupta had offered to sign a "waiver of extradition," Judge Rakoff cited the "immense delays" in the execution of "even the simplest judicial acts in India" suggesting that extraditing Mr Gupta to the US could take years or be avoided totally.