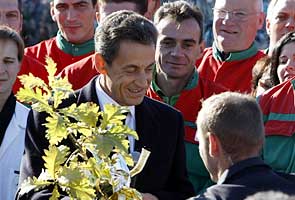 Paris:
Proud papa Nicolas Sarkozy, the first French president to have a baby while in office, said on Thursday he and wife Carla Bruni-Sarkozy feel "a very profound happiness" over the birth of their first child and added that mother and daughter are doing very well.
It was the French leader's first official comments about the birth, which took place Wednesday at a maternity clinic in western Paris. He did not give the baby's name, in keeping with the couple's coyness throughout the pregnancy and labor.
"We are lucky to have been blessed by a new arrival," Sarkozy told journalists on a visit to a waste management plant in western France. "All parents can understand the very profound happiness Carla and I feel, and at the same time everyone can understand that this happiness is all the more profound because it is private."
Privacy was the guiding principle of the baby's hush-hush birth. Police officers posted outside the maternity clinic for the past weeks kept the journalists at bay, and it was largely the head of state's frequent visits Wednesday that tipped the news media off as to what was going on inside.
The tight control over news of the birth appears to be part of a strategy aimed at portraying Sarkozy as fully absorbed in resolving the problems gripping France and Europe.
The eurozone debt crisis took priority over the baby on Wednesday, as Sarkozy jetted off to Frankfurt for a last-minute meeting with the German chancellor while his wife was in labor. He was absent for the child's birth shortly before 8 p.m. (1800 GMT), according to BFM TV, but visited the clinic upon his return to Paris.
He also made an early morning visit to the clinic on Thursday, ahead of the previously scheduled trip to the waste management plant. Sarkozy was presented with an oak sapling in honor of his daughter.
Asked about the baby's name, Sarkozy said he'd "allow the mother the pleasure of telling you herself." In a rare interview during her pregnancy, Bruni-Sarkozy vowed to keep her baby out of the spotlight and pledged not to release any photos of the infant.
In a letter to Sarkozy, British Prime Minister David Cameron told the French leader that he and his wife Samantha were "thrilled to hear the news." Last year, Samantha Cameron gave birth to a baby girl while her husband was in office.
It was not clear whether Sarkozy's new daughter might help bolster his dismal approval ratings. In France, politicians' private lives have historically remained just that, and people here seemed largely unaffected by news of the first baby's birth.
Parisian Olivier Cottarel seemed to sum up public opinion, saying: "I'm happy for Mr. Sarkozy and his wife, but that's it. It don't care that much, in fact."
Communication expert Christian Delporte said the baby's birth could play out as a boon for Sarkozy or potentially further damage the already wildly unpopular leader as the presidential campaign heats up.
It could "soften his image," and humanize him, Delporte, who heads the Center for Cultural History and Contemporary Societies, told Le Figaro newspaper. However, given "the country's suffering, the image of him happy with his wife (and baby) could appear almost indecent."
Still, the birth marked a historic event - the first time a French president has had a child while in office.
Sarkozy's eventful private life has also set other benchmarks: He's the first president here to divorce and remarry while in office.
Sarkozy and Bruni-Sarkozy, a former supermodel, were wed in a small private ceremony in the Elysee presidential palace in February 2008, less than a year after Sarkozy took office and fewer than four months after his divorce from his second wife, Cecilia Ciganer-Albeniz.
The president has three boys from his two previous marriages, while Bruni-Sarkozy has one son from a prior relationship.
Sarkozy is expected to seek a second mandate in presidential elections six months away. However, recent polls put his chief rival, Socialist candidate Francois Hollande, in the lead.