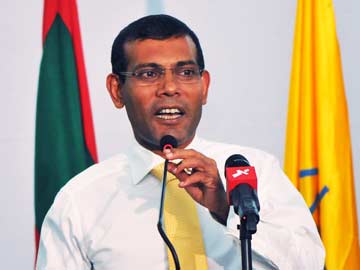 New Delhi:
Former Maldives president Mohamed Nasheed lost run-off elections held in the Indian Ocean nation on Saturday, despite being the front-runner going into the polls, results showed.
Abdulla Yameen Gayoom, the half-brother of the country's former strongman, defeated Nasheed, securing 51.3 per cent of the popular vote in a bitterly fought election, the results said.
Mr Nasheed, in an extremely gracious speech that is seen in only mature democracies, conceded his defeat. This is only the second democratic presidential election in the Maldives. The run-off saw an extremely close race with Mr Yameen winning by 6,022 votes.
The Election Commission will announce final results later today and Mr Gayoom will be sworn in at a special session of the Majlis (Parliament) later in the day. He is expected to name some Cabinet members including the economy minister as well.
A new President: In the Gayoom family
Mr Nasheed, in a short speech, first conceded defeat then took questions from the media where he said that there was no question of any street protests or any other measures to try and overthrow an elected government. In the first democratic elections in 2008, Mr Nasheed had defeated Maumoon Gayoom, Mr Yameen's brother, who ruled the country for 30 years in what human rights observers describe as an autocratic manner.
Election Commission figures seem to suggest that a vast majority of the votes secured by Qasim Ibrahim, the third placed candidate in the first round who Mr Yameen partnered, were transferred to Mr Gayoom. In the first round re-vote, Mr Nasheed had, like in the now annulled September 7 vote, emerged a hands-down winner. He didn't, however, get the constitutionally mandated magic number of 50 per cent + 1 vote. The Supreme Court had postponed the run-off last Sunday. The country's first democratically elected President, Mr Nasheed got 46.93 per cent of the vote in the first round re-vote a week ago. Mr Gayoom had 29.73 per cent and the third placed candidate was Qasim Ibrahim with 23.34 per cent of the vote.
New ruling coalition
At a press conference former President Maumoon Gayoom claimed victory, saying, "Today, the Maldivian citizens have proven that they know democracy and they know democracy's prosperity and vision. The election went very smoothly and peacefully. The Maldivian citizens have stated their decision clearly. The biggest secret behind us winning this election is that Honorable Qasim Ibrahim joined us." Reports suggest 33% of seats in the new Cabinet have been promise to Mr Qasim, a resort tycoon.
Democratic process: Evolution not revolution
Mr Nasheed, in conceding defeat, vowed to fight on only democratically. He said, "We must accept the results. Our future is bright. A lot of elections are imminent. We must work hard and win majorities. We should never change a government any other way than by votes. Mr Yameen has won a majority however small. It's our duty to respect that. Over 104,000 Maldivians voted for us. We now have many responsibilities. We will now be the Opposition, a loyal, responsible one. Keep in mind we are still the biggest political party with the highest level of support." There were protests that led to Mr Nasheed stepping down and subsequent violence after he resigned as President last year. But, the internationally famous climate-control campaigner told his party, "When you fall, get up and run. When you lose, be courageous and in victory, be magnanimous." He also vowed he'll be back. When asked what his political future is, he said, "I am just 46."
Extremist worries
Mr Gayoom said at a press conference that his electoral victory is God-granted, a victory for Allah and Islam. "We all worked to save the religion and Allah," he said. India is worried about a rise in extremism and Pakistan exploiting the situation. Indian intelligence agencies have been keeping an eye on possible Mumbai-like 26/11 attacks from uninhabited islands. Maldivians reported to have been trained by the Lashkar-e-Taiba (LeT) and even going to fight in far-off conflict zones like Syria. During campaigning, Mr Nasheed also warned of an Al-Qaeda plot to assassinate him.
Back to the future?
The results see a return of the old political guard and Mr Nasheed conceded that the country was split nearly down the middle in support of his party's and Mr Gayoom's PPM (Progressive Party of Maldives) outlooks. Mr Nasheed resigned in February 2012 after a police revolt supported by elements of the MNDF (Maldivian National Defence Force) and political opponents including his then deputy, who took over as President. Mr Nasheed argues the judiciary and other elements installed by Gayoom senior were constantly taking steps to keep him out of power. MDP supporters also felt let down after India immediately recognised the regime that replaced Mr Nasheed. A course correction seemed to have been made soon after when it became evident that the new regime was playing the China card against India.
Eye on China: New regime vs old friends
India and the world have been closely monitoring the political process since the Maldives straddles crucial sea-trade and communication links. India also has historic, cultural, economic and security links which it doesn't want to see whittled away by other powers including China. Beijing has been expanding its footprint in the area and has committed 500 million dollars in aid which is a quarter of the Maldives' GDP. China is also the number one source of tourists - nearly a quarter of the one million a year. The Foreign Ministry building in Male has been built by the Chinese and its embassy - a 10-storey building right next to the PPM office - is one of the capital's biggest. India has provided nearly 240 million dollars in credit during President Nasheed's term apart from infrastructural, health and educational investment. But, the Maldives' largest FDI project went sour after Indian company GMR was thrown out by Mr Nasheed's successors. New Delhi also has military assets for sea-patrolling against pirates as well as radars for surveillance that could be crucial ears and eyes in the island archipelago. Going back in history, the third of November marked 25 years since the Rajiv Gandhi government rushed troops to crush a coup by Sri Lankan mercenaries and Maldivian businessmen in 1988 (the elder Mr Gayoom had requested assistance). But, gazing into the future, New Delhi will look at keeping its crucial strategic interests alive with the new regime while not forgetting old friends.