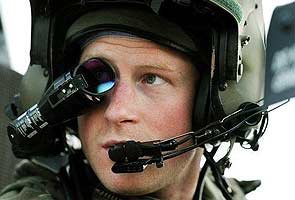 London:
Prince Harry, third in line to the British throne, had to double up as a 'tea boy' to his fellow soldiers in Afghanistan where he was deployed as a helicopter pilot.
The 28-year-old Prince Harry who has just returned from a 20-week tour of duty in the war zone in Helmand province as an Apache helicopter pilot, said he had to regularly double up as a tea boy for his colleagues after losing in a board game called Uckers.
"Whoever loses that becomes the 'tea boy', and then you have to make brews for everybody all day," he said in interviews recorded in Afghanistan and released in the Sunday Times today.
The game, which is similar to Ludo, was one of the ways Prince Harry spent his time while on 12-hour shifts waiting in the "very high readiness" tent.
The prince's flight commander, Captain Simon Beattie, said Uckers was "always the thing we do first in the morning and the loser ends up being on call. We ring the bell and they make the brews".
The Apache pilots sat on benches propped up on empty ammunition boxes and also passed the time by watching DVDs of films like Apocalypse Now, Black Hawk Down and Platoon.
Prince Harry, known as Captain Wales in the Army, also revealed that the British pilots traded their supplies of snacks of Kit Kats and Rice Krispies with the American troops in exchange for fresh ground coffee and Hershey's chocolate.
When his shifts did allow him to go into the "cookhouse" for a meal, Prince Harry said he went late to miss the crowds and to avoid other troops having "a good gawp" at the prince queuing up for his food.