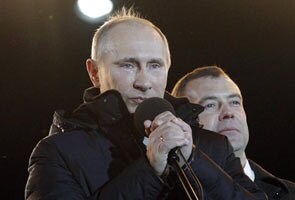 New Delhi:
Congratulating Vladimir Putin on winning the Russian Presidential elections, Prime Minister Manmohan Singh has said that he looks forward to welcoming him to India for summit talks on the sidelines of the BRICS summit in March-end.
"Your success in these elections is an affirmation by the Russian people of your vision of a strong, prosperous and democratic Russia," he said in a congratulatory message.
Describing Putin as a special friend of India, Mr Manmohan Singh said he "deeply appreciated the personal commitment and attention that you have brought to nurturing the India-Russia strategic partnership over the last 12 years".
"It is a matter of great satisfaction that both our countries share a common vision on a range of international issues and that our partnership contributes substantially to international peace and security," he said.
"As you prepare to assume your new responsibilities, I look forward to working closely with Your Excellency to strengthen further our strong and close relationship. I also look forward to welcoming Your Excellency in India later this year for the next India-Russia Summit."
Mr Putin will come to India to participate in the BRICS summit of the five emerging economies, including Brazil, Russia, India, China and South Africa here March 29. Manmohan Singh will also hold bilateral talks with Mr Putin on the sidelines of the BRICS summit.
Mr Putin, a former President who became Prime Minister in 2008, won the March 4 Presidential elections with an overwhelming majority.