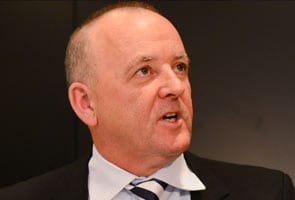 Sydney:
A Sydney radio station at the heart of the British royal prank call scandal on Monday said it tried to contact the London hospital five times to discuss what it had recorded before going to air.
Rhys Holleran, chief executive of Southern Cross Austereo which owns 2Day FM, said that nobody could have reasonably foreseen the consequences of what has been described by the hospital as an "appalling" hoax.
He said he was satisfied that the appropriate checks were conducted before the pre-recorded segment was broadcast.
"It is absolutely true to say that we actually did attempt to contact those people on multiple occasions," Holleran told Fairfax radio.
"We rang them up to discuss what we had recorded."
"We attempted to contact them on no less than five occasions," he added. "We wanted to speak to them about it."
Holleran did not say whether the broadcaster was given any response. The stunt was vetted by lawyers before being aired to listeners in Sydney last week.
The hoax call, with 2Day FM presenters Mel Greig and Michael Christian posing as Queen Elizabeth II and Prince Charles, was taken by mother-of-two Jacintha Saldanha, 46, at London's King Edward VII Hospital.
With no receptionist on duty she put them through to a colleague who divulged details of Prince William's wife Kate's recovery from severe morning sickness.
Indian-born Saldanha was subsequently found dead, believed to have taken her own life although British police have refused to confirm that ahead of an inquest.
Her death sparked a massive backlash against the radio station and the two presenters, who apologised and went into hiding where they are undergoing counselling.
"No one could have reasonably foreseen what has happened," said Holleran, adding however that the station was reviewing its actions.
"We think that's an appropriate thing to be doing and we'll do it," he said.
His comments came after Southern Cross Austereo held an emergency board meeting Sunday to discuss the growing furore which has seen it suspend all advertising, and vowed to cooperate with any investigations.
"As we have said in our own statements on the matter, the outcome was unforeseeable and very regrettable," company chairman Max Moore-Wilton said in a letter to the hospital's chairman Lord Simon Glenarthur.
"I can assure you we are taking immediate action and reviewing the broadcast and processes involved."
The case has triggered demands for tougher regulation of the electronic media although Australia's press regulator, the Australian Communications and Media Authority, has not commented on whether the station broke any rules.
Communications Minister Stephen Conroy said the ACMA was considering whether to initiate an inquiry beyond its usual process of giving broadcasters 60 days to respond to complaints.
"While the ACMA is gathering the facts and working through the process it would be unwise for me to comment," said Conroy.
While the British press has condemned the hoax, Australian media has said it was not the time for "hysterical finger-pointing".
The scandal took a toll on Southern Cross shares Monday, with the company's stock down 4.5 percent at Aus$1.05 in early afternoon trade.