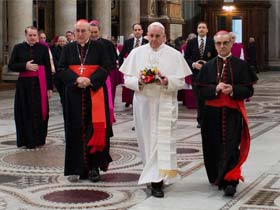 Rome:
Pope Francis has told the faithful in his native Argentina that they could donate money to charity rather than spend it to travel to Rome for his inauguration on Tuesday, the Vatican said.
The former archbishop of Buenos Aires, Jorge Mario Bergoglio, called the Vatican envoy to Argentina, Emil Paul Tscherrig, on the night of his election on Wednesday to inform him of his wishes.
Francis asked Tscherrig "to let the bishops and the faithful know they did not have to make the costly journey to Rome and could instead do an act of charity, of solidarity with the poor," Vatican spokesman Federico Lombardi said on Friday.
"He has not forbidden people from coming, he has only said that it is not necessary," he said.
Rome prefect Giuseppe Pecoraro said city authorities were preparing for a million people to come to the mass in St Peter's Square.