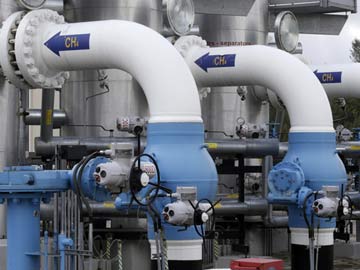 Warsaw:
Poland's PGNiG gas utility on Thursday said its gas deliveries from Russia's Gazprom had now been cut by half, against a background of tension over the Ukraine crisis.
On Wednesday, "the deficit in deliveries was at 45 percent" of what was ordered on pipelines transiting from Ukraine and Belarus, PGNiG said in a statement.
This was a day after it announced that the supply of gas had been cut by 24 percent.
"PGNiG has not received to date any information from Gazprom about the reasons for the reduction in gas supplies," the firm added, saying it did not know whether the cause was technical or commercial.
Tensions are running high between the countries over the escalating Ukraine conflict, where Poland has backed the government forces battling separatists in the country's east.
Ukraine's main gas utility Ukrtransgaz said on Wednesday that the reduction was designed to squeeze its energy supplies by "cutting the reverse flow we are receiving" from EU states.
But Gazprom rejected the Polish claim as "incorrect" on Wednesday, saying deliveries had remained constant at 23 million cubic metres per day.
A source at the Russian gas giant said the statement remained valid on Thursday.
Analysts said on Thursday that the supply shortfall could be an attempt by Moscow to strain bilateral ties between the European Union and Ukraine at a key juncture of the crisis in that country's east.
"We believe that in this way Gazprom is trying to strengthen its bargaining power ahead of upcoming negotiations with Ukraine and EU on Sep 16," analysts at the Bank of America Merrill Lynch told AFP.
The Polish firm, which observed a first cut in deliveries on Monday, said on Thursday it would plug the gap in supplies with deliveries transiting through the Czech Republic and Germany.
"There's no danger for Polish clients," PGNiG spokeswoman Dorota Gajewska told reporters.
She said there was no need to draw on reserves for now, but refused to specify the volume of gas ordered by the firm in recent days.
"This is the first time we've found ourselves in a situation where we were not warned that the volume of deliveries would be reduced compared to what we ordered," Gajewska said.
Poland is highly dependent on Russian gas. Of the 16 billion cubic metres of gas it consumes annually, over 60 percent is imported, mainly from Russia.
The EU member has been one of the staunchest supporters of Kiev's pro-West government and has repeatedly called for tougher sanctions against Moscow.
Several eastern EU states are supplying Kiev with gas after Russia stopped deliveries in mid-June after a pro-Western government took power, accusing Ukraine of not paying its bills.
On Wednesday, one of Ukraine's suppliers, Slovakia, on reported a 10-percent cut in gas deliveries from Russia.
German group RWE has also been supplying Ukraine with gas using reverse flow since April.