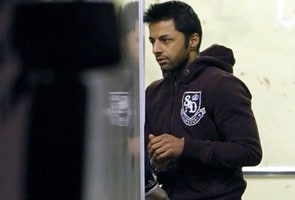 London:
Indian-origin woman Anni Dewani, who was killed during her honeymoon in South Africa, cried herself to sleep alone on a sofa on their wedding day after her husband refused to have sex with her, leading to suspicions that he is gay.
Shrien Dewani, Anni's husband and a suspect in her murder, told the 28-year-old woman they must not have sex until after a ceremony in Mumbai, The Sun reported.
Before her death in Cape Town, Anni had sent texts to people calling her 31-year-old husband a "monster" and had also mentioned the word "divorce".
South African police are now reportedly convinced Shrien Dewani, a businessman from Bristol, led a gay double life. He ordered hitmen to kill his young wife when she threatened to end their marriage.
Dewani has denied any involvement in the murder. He also termed the claims that he paid a "rent boy" for sex as "ludicrous".
Another "gay lover" of Dewani has reportedly told police of a fling with the businessman.
Police were also investigating claims that Dewani regularly visited a gay club in Vauxhall, south London, where clients wear kinky rubber or leather outfits.
A London court is hearing an extradition case against Dewani.