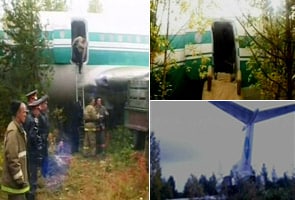 Moscow:
A Russian passenger plane with 81 people on board was forced to make a spectacular emergency landing on Tuesday after all of its systems failed, Russian media reported.
The TU-154 Alrosa airlines plane, carrying 72 passengers and nine crew members, was on its way from the Siberian city of Polyarny to Moscow when its power supply, fuel pumps, radio link and navigation equipment failed, Prime-Tass news reported on Tuesday.
The pilots glided the plane down from an altitude of 10,600 metres (34,780 feet) despite none of the engines working and crash landed at a now defunct airfield for helicopters and small planes in Izhma town in the Komi region in Russia's north-west.
The plane overran the runway by 200 metres (650 feet) and eventually crashed into a nearby forest.
No one was seriously injured officials said.