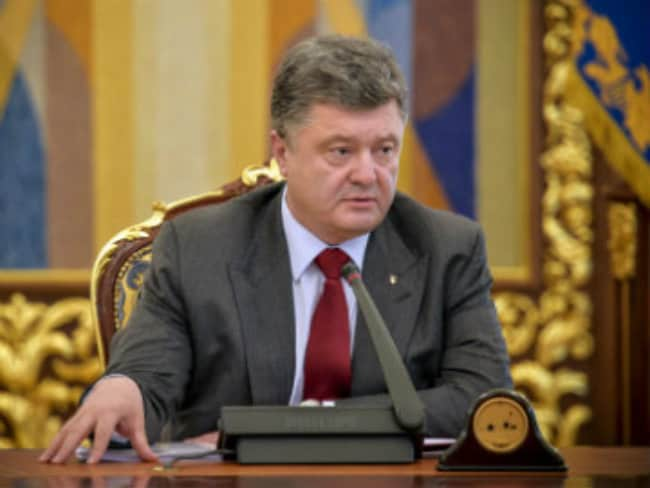 Kiev, Ukraine:
Ukraine's president submitted to parliament Thursday legislation enabling the ex-Soviet republic to one day join NATO and make sure the Western military alliance protects it from future Russian threats.
Petro Poroshenko's measure would revoke Ukraine non-aligned status -- a classification given to neutral states such as Switzerland that refuse to join any military alliance and play no active part in wars.
Ukraine became such a country in 2010 under strong pressure from Russia. It had sought a closer alliance with the West for parts of the early post-Soviet era but was never viewed as a serious short-term contender to join.
Poroshenko made NATO membership one of his top foreign policy priorities after coming to power in the wake of the February ouster of a Moscow-backed president.
He and the military bloc both accuse Russian President Vladimir Putin of not only funding and arming but also backing up with elite forces the militias fighting Kiev's forces in the industrial east since April.
Moscow denies the charge and claims satellite imagery evidence purporting to show the movement of tanks and heavy weapons across its border into the war zone is a fabrication.
Poroshenko said Russia's "aggression" forced him to submit the bill.
"Ukraine's non-aligned status... proved to be an ineffective means of ensuring the country's security from foreign aggression and pressure," an explanatory note to the bill quoted on the president's website said.
"Ukraine's long-term occupancy of a 'grey' buffer zone between powerful systems of collective security is an additional threat."
NATO discussed offering Ukraine membership in the wake of Russia's 2008 war with its southern neighbour Georgia.
But the Alliance never outlined a firm timeline for the membership of either Ukraine or Georgia out of fears that this might provoke Russia into even more hostile behaviour.
Former president Viktor Yanukovych picked the new non-alignment policy after striking a lucrative lease agreement with Russia for its Black Sea Fleet in Crimea -- a peninsula seized by Moscow in March.
Putin had sought to pull Ukraine into a new military and political bloc that he is slowly forging with other small former Soviet republics and that he hopes may one day be joined by Iran.
Russia views NATO as a direct military threat that seeks to station forces along its border and contain its foreign policy interests.
Putin has also made Ukraine's neutrality one of the main conditions of any peace deal that Kiev may strike with the eastern insurgents.