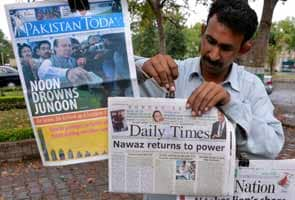 Islamabad:
In an embarrassing setback to Pakistan People's Party (PPP) that ruled the country since 2008, former Pakistan Prime Minister Raja Pervez Ashraf lost the election along with his predecessor Yusuf Raza Gilani's two sons.
Mr Ashraf, has suffered a humiliating defeat in NA-51 (Rawalpindi-II), Geo News reported.
As per unofficial and initial results, Pakistan Muslim League-Nawaz (PML-N) candidate Raja Mohammad Javed Ikhlas won the seat.
Ikhlas drew 82,339 while Raja Pervez Ashraf was way down with 23,233 votes received.
Similarly, bboth Mr Gilani's sons, Ali Musa Gilani and Abdul Qadir Gilani, have lost in polls from their Multan constituencies.
Abdul was kidnapped by suspected Taliban terrorists last week while he was campaigning.
Earlier, a Pakistani court had disqualified Yusuf Raza Gilani.
Going by the unofficial results, the PPP - which ruled the country for the last five years - has faced a major setback and has been effectively confined to Sindh.
As per available trends, PPP is likely to come a distant third but could play an important role in the government formation if PML-N fails to get a simple majority in the 342 seat strong National Assembly.
Top leaders of the party, including former Information Minister Qamar Zaman Kaira, lost their seats in the largest province of the country, Punjab.
Currently, the PPP has a majority in the upper house of Parliament, at least for the next one and a half years. Major legislation would not be possible for the new ruling party without the PPP's consent.
In the 1970 elections, Zulfikar Ali Bhutto's PPP conquered Punjab, with Lahore being considered one of the party's hubs for some time after that stunning victory.
But the unofficial results of the 2013 election show that the party has once again been confined to Sindh, as it was in 1997 when the Benazir Bhutto-led PPP secured less than 20 National Assembly seats, Express News reported.
The party tried hard to restore its image in Punjab during the last five years but apparently its poor performance shattered its dreams. The PPP also promised to bifurcate Punjab, but even this slogan could not earn it votes in south Punjab, it said.
In the 2008 elections, the Asif Ali Zardari-led PPP secured 97 National Assembly seats. After getting 24 reserved seats for women and four reserved seats of minorities, the total number of NA seats for the PPP was 124 in a house of 340. The party formed a coalition government with the help of MQM, ANP and JUI-F.