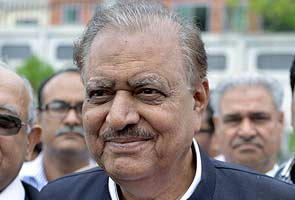 Islamabad:
Mamnoon Hussain, the India-born nominee of Prime minister Nawaz Sharif's PML-N, is set to become the 12th President of Pakistan tomorrow, succeeding incumbent Asif Ali Zardari.
The election, which was preponed from August 6, will see a one-to-one contest between Mr Hussain and Imran Khan's Pakistan Tenreek-e-Insaf (PTI) candidate Justice (retired) Wajihuddin Ahmed.
Pakistan People's Party withdrew its candidate Raza Rabbani and boycotted the election in protest to the date of polls being changed.
Over 1,000 members of the national parliament and four provincial assemblies will cast ballots for largely ceremonial head of the state.
Khursheed Alam, a spokesman of election commission, said the polling will start at 10.00 am and continue with break till 3.00 pm.
The results of the election will be declared tomorrow.
73-year-old Hussain, a leading businessman from the port city of Karachi, is expected to easily win the poll as the PML-N has a clear majority in the electoral college comprising members of parliament and the four provincial assemblies.
"I will be the President for everybody. I will resign from my party office if I become President," Mr Hussain, a close aide of Prime Minister Nawaz Sharif, had said.
Born in the historic city of Agra, Mr Hussain belongs to the Urdu-speaking ethnic group that migrated from India during partition in 1947.
He remained with the PML-N during the regime of former military ruler Pervez Musharraf, who exiled Mr Sharif to Saudi Arabia and created a new party by breaking the PML-N.
He served as Governor of Sindh province for a short period during June-October 1999 and lost the post after General Musharraf led a military coup against Mr Sharif.
The presidential election was earlier scheduled for August 6 but the Supreme Court directed the election commission to hold it on July 30.
The Court ordered holding of presidential election a week ahead of the original date in response to a petition by PML-N Chairman Raja Zafrul Haq, seeking to advance the polls due to the ongoing Ramzan.
Mr Haq had said in the petition that the poll should be rescheduled as a large number of parliamentarians and legislators, who are part of the electoral college, would not be able to vote as they would travel to Saudi Arabia for religious rituals associated with Ramzan.
The new President will be sworn in on September 8 and will replace 58-year-old Zardari, who was elected President in 2008.
All important powers are vested in the Prime Minister and the President's role is very limited in Pakistani parliamentary system.