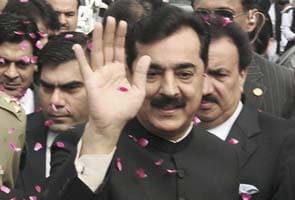 Islamabad:
Pakistan's Supreme Court on Thursday found Prime Minister Yousuf Raza Gilani guilty of contempt of court, but gave him only a symbolic sentence of a few minutes' detention in the courtroom. Here are 10 big facts on this story:
1) The Pakistani cabinet decided this afternoon that the Prime Minister does not need to resign on moral grounds because he has not been convicted of a criminal offense.
2) Mr Gilani was found guilty of contempt of court for refusing to follow orders to re-open cases of corruption against the President, Asif Ali Zardari.
3) He was given a 30-second symbolic punishment - he had to remain in court as the seven judges of the bench delivered their judgement, rose and left the court.
4) He was seen smiling in court after the verdict was delivered.
5) He can technically be disqualified under Article 63 of the constitution because he has been convicted in a court, though analysts say that is a long and complicated process. His lawyer said he would appeal the verdict, further delaying any action that could see Mr Gilani lose his job.
6) He is the longest-serving Prime Minister in Pakistan, where civilian governments have repeatedly been toppled by the country's powerful military, often with the support of the Supreme Court, which critics allege is heavily politicized. Corruption charges have routinely been used to target those in power, or seeking to return.
7) Mr Gilani arrived at court accompanied by several ministers and was showered with rose petals. After the hearing, he said, "The punishment is not appropriate."
8) The Supreme Court says that Mr Zardari must be investigated for corruption and for routing kickbacks to Swiss bank accounts. Mr Gilani says the president is entitled to immunity within Pakistan and abroad.
9) Mr Zardari and his wife, former Prime Minister Benazir Bhutto who was assassinated a few years ago, were found guilty of corruption in absentia in a Swiss court in 2003. Swiss prosecutors dropped the case in 2008 after the Pakistani government approved the National Reconciliation Ordinance or NRO which offered amnesty in graft cases to Mr Zardari and many other senior politicians.
10) In 2009, Pakistan's Supreme Court nullified the NRO and ordered the government to write a letter to Swiss authorities requesting they reopen the case against Mr Zardari.