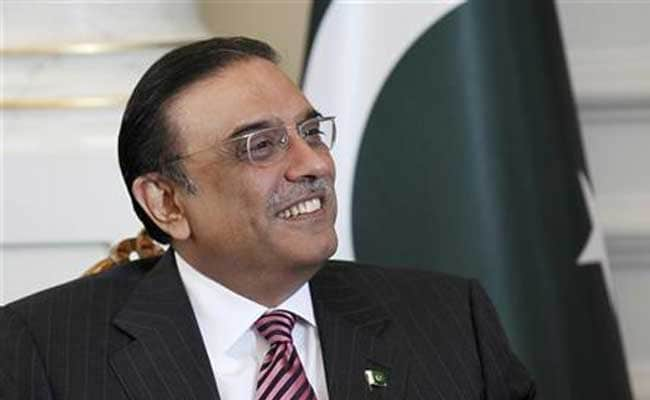 Karachi:
Pakistan's former President Asif Ali Zardari and his son PPP chairman Bilawal today attacked the Nawaz Sharif government over corruption and "facilitating terror" as the father-son duo said they would contest polls to enter the current parliament.
In his first major public appearance after returning from an 18-month self-imposed exile, the 61-year-old Pakistan People Party (PPP) co-chairman said while he would contest elections from Nawabshah, Bilawal will do so from Larkana in Sindh province, a development that could affect the country's political scenario in a major way.
Addressing a charged crowd of PPP supporters while observing the 9th death anniversary of his wife and killed prime minister Benazir Bhutto in Garhi Khuda Bakhsh - a village that contains the family graveyard of the Bhutto family, the father and son attacked the government over various issues, including Panama Papers and terror.
Mr Zardari also criticised Prime Minister Nawaz Sharif for his cordial ties with his Indian counterpart Narendra Modi.
He began by saying he wanted to share the "good news I had promised to share: Bilawal and I will contest the election now, right now, (and sit) in this Parliament".
"I will contest the election on my sister's (Azra Pechuho's) seat and Bilawal on (Ayaz) Soomro sahib's seat," he said.
Mr Zardari's announcement is being interpreted as a strategy to enter parliament through by-elections in the two constituencies and fresh polls will have to be called in such a situation, the Dawn reported.
"We have sacrificed much for the sake of democracy and politics to save Pakistan. We will not leave this Mughal emperor (Sharif) to rule," Mr Zardari said.
"Mian (Sharif) Sahab, we gave you this democracy as a sacred trust. We made every decision with your input. We made decisions in Parliament through consensus. It is a pity that you seem to have forgotten all your promises today," the former president alleged.
"I am not coming to the Parliament to topple you; we only intend to teach you certain things, to consult with you on national issues," he said, adding: "We have fought dictators, but never raised our voice against the military."
In his fiery speech, Bilawal lashed out at the PML-N government on multiple fronts, including terrorism and religious extremism.
"The world wants to call us a terrorist state, (and yet) people in your cabinet facilitate terrorists," the 28-year-old PPP chairman alleged while addressing the prime minister.
"If something were to happen tomorrow, you will run away, but the 20 crore people of Pakistan will stay here," he added.
On Mr Sharif and his family's name appearing in the Panama Papers, Bilawal said: "Do you think it is that simple? So you think we are idiots?
"Your entire government is full of scandals," he alleged and warned of strong protests by his party if the Panama bill is not passed in the National Assembly.