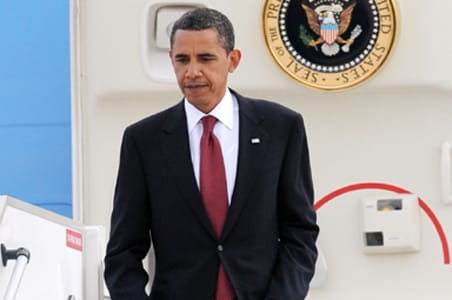 Paris:
The Obamas, who are in Paris for the D-Day anniversary, have reportedly turned down a dinner invitation from the Sarkozys.
President Obama's reluctance to spend too much time with Sarkozy has become a huge embarrassment for the French president.
Both the French media and the Opposition have mocked Sarkozy over Obama's coolness towards him, which is only partly due to his handling of the Normandy commemoration.
Obama's irritation with his French counterpart reportedly began when Sarkozy tried made some disparaging remarks about him at the G20 summit in London in April.
Sarkozy told colleagues that he found Obama inexperienced and unbriefed, especially on climate change. The US president hit back last month, asking a visiting French minister to tell Sarkozy that he would do his homework, and in two months know all about climate change.
AFP adds:
US President Barack Obama landed in France where he is to attend international ceremonies marking the 65th anniversary of World War II D-day landings.
Obama arrived on Air Force One at Orly airport at 0043 IST, after visiting a former Nazi camp in Germany, and was met by Foreign Minister Bernard Kouchner before joining French counterpart Nicolas Sarkozy on Saturday.
The Obama motorcade headed directly for the US embassy, in central Paris, after he visited the German city of Dresden, flattened by WWII Allied bombing which killed 35,000 people in February 1945.
Flanked by Nobel laureate and Holocaust survivor Elie Wiesel and German Chancellor Angela Merkel, he also became the first US president to visit the Buchenwald concentration camp in central Germany.
German media saw the visit as a conciliatory gesture towards Israel and US Jews after his criticism of Israeli policy in Cairo during a major speech to the Muslim world earlier this week.
As Obama travelled into Paris, the US First Lady Michelle Obama and her young daughters Malia, 10, and Sasha, seven, completed a brief trip to the Eiffel Tower on Friday evening. They arrived in France shortly before the president.