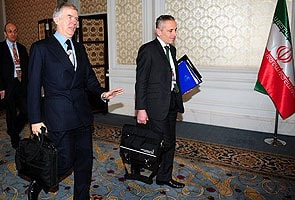 Istanbul:
World powers have failed to persuade Iran to take steps to ease suspicions over its nuclear programme as the defiant Islamic republic insisted on uranium enrichment.
Two-day talks in Istanbul between Iran and the so-called P5+1 group ended without progress and no new meeting was scheduled to tackle concerns that Tehran is secretly developing an atomic bomb.
"We had hoped to embark on a discussion of practical ways forward, and have made every effort to make that happen. I am disappointed to say that this has not been possible," EU foreign policy chief Catherine Ashton told reporters.
"No new talks have been planned," she said.
Ashton headed the delegation of the P5+1 group, comprised of Britain, China, France, Russia, the United States and Germany.
A senior US diplomat said diplomatic channels remained open.
"The door is open... we continue to believe that there is time and space for diplomacy," he said on condition of anonymity.
The United States and Israel have not ruled out military action against Iran to prevent it from acquiring nuclear weapons.
Iran had set the stage for wrangling as soon as the meeting began Friday, declaring that its sensitive uranium enrichment work was not up for debate.
Speaking shortly after Ashton, its chief negotiator Saeed Jalili insisted that Iran "has the right to a combustion cycle, including the enrichment of uranium," under the nuclear Non-Proliferation Treaty.
"This right must be recognised," he said, stressing that "we are ready for talks, even tomorrow" if the six powers were to accede to the long-standing Iranian demand.
The Istanbul gathering was the second between the two sides after talks resumed last month in Geneva, breaking a 14-month hiatus in diplomatic efforts to settle the dispute.