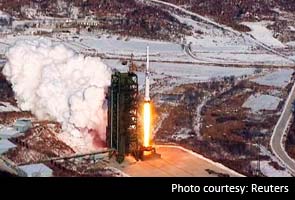 Seoul, South Korea:
North Korea vowed Thursday to launch more long-range rockets and conduct its third nuclear test, ratcheting up tensions following the UN Security Council's decision to tighten sanctions against the country for launching a rocket last month.
In a statement issued through its state-run media, the National Defense Commission, the North's highest governing agency, headed by its young leader Kim Jong Un, said that "a variety of satellites and long-range rockets which will be launched by the DPRK one after another and a nuclear test of higher level which will be carried out by it in the upcoming all-out action" will be aimed at deterring the hostile policy of "the US, the sworn enemy of the Korean people."
The statement, which used the acronym for the North's official name, Democratic People's Republic of Korea, did not clarify when it would conduct such a test, which would be the first since Kim came to power in December 2011. But citing preparations at the Punggye-ri test site in northeastern North Korea, South Korean officials and news media said that Pyongyang can conduct a new underground nuclear test there on short notice.
North Korea had previously hinted at the possibility of conducting a nuclear test, as its Foreign Ministry did Wednesday when it issued a scathing statement rejecting a unanimous resolution that the Security Council adopted Tuesday. The resolution tightened sanctions and condemned North Korea's Dec. 12 rocket launching as a violation of earlier resolutions prohibiting the country from conducting any tests involving ballistic missile technology.
The North's statement Thursday indicated that Kim, despite recent hints of economic reform and openness in North Korea, was likely to follow the pattern his father, Kim Jong Il, had established when he ran the country: a cycle of a rocket launching, UN condemnation and nuclear test.
Kim's posture threw a direct challenge to President Barack Obama as he starts his second term, and to Park Geun-hye, who will be sworn in as president of South Korea next month.
After years of tensions with North Korea, both Obama and Park recently said they were keeping the door open for dialogue with North Korea on the premise that such engagement would lead to the eventual dismantling of its nuclear weapons program.
On Thursday, the North's National Defense Commission said the Security Council's move convinced it to "launch an all-out action" to foil Washington's hostile policy and "safeguard the sovereignty of the country and the nation." It said that North Korea's drive to rebuild its moribund economy and its rocket program, until now billed as a peaceful space project, will now "all orientate toward the purpose of winning in the all-out action for foiling the US"
"Settling accounts with the US needs to be done with force, not with words, as it regards jungle law as the rule of its survival," it said.
The North's comments came as Washington reaffirmed its policy of punishing North Korea for moving toward the development of long-range missiles tipped with a nuclear warhead, spearheading international backing for the Security Council resolution.
North Korea's Foreign Ministry said Wednesday that it would take "physical counteraction" to bolster its "nuclear deterrence both qualitatively and quantitatively."
In recent months, international experts have detected what appear to be new tunneling activities and efforts to fix flood damage in the Punggye-ri nuclear test site in northeastern North Korea. The North conducted an underground nuclear test in Punggye-ri in 2006 and in 2009.
North Korea said its Unha-3 rocket December put a scientific satellite into orbit. But Washington said the launching was a cover for testing technology for intercontinental ballistic missiles. After analyzing the debris of the rocket North Korea fired in December to put a satellite into orbit, South Korean officials said North Korea indigenously built crucial components of a missile that can fly more than 6,200 miles.
A new nuclear test by the North could help bolster its efforts to build a nuclear device small enough to mount on long-range missiles.
In recent years, North Korea has made it increasingly clear that it is determined to keep its nuclear weapons at whatever costs, undermining a once-popular belief that the Pyongyang government's brinkmanship was a mere bargaining ploy designed to get as many concessions as possible in exchange for nuclear weapons.
Choi Jin-wook, an analyst at the Korea Institute for National Unification in Seoul, said, "This is a strong message from North Korea, basically saying that no matter how much economic aid it receives, no matter how flexible other countries become, it will be negotiating only on the premise that it will be accepted and treated as a nuclear power."
He continued, "The North is sending a wake-up alarm to Washington and Seoul."
© 2013, The New York Times News Service