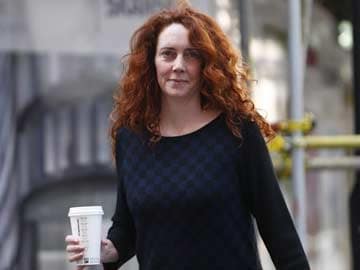 London:
The phone-hacking trial of Rupert Murdoch's former British newspaper boss Rebekah Brooks was told on Tuesday there was no "smoking gun" evidence to prove she knew about illegal interception of celebrities' voicemail messages.
The seven-month trial, now nearing its end, has heard that Brooks condoned the practice at the now-defunct News of the World tabloid in an effort to discover exclusive stories.
The scandal, which erupted three years ago, enmeshed large swathes of Britain's political establishment due to the close links Murdoch and his lieutenents enjoyed with the main political parties.
Brooks denies knowing about phone-hacking while she was editor of the paper and on Tuesday her defence lawyer Jonathan Laidlaw told the Old Bailey court she could not win because of critical and unfair media coverage.
"Whatever the evidence, she had started at a disadvantage, some yards behind the starting line and she can't win," he said in his closing speech.
Laidlaw said the case against her was circumstantial, based on theories pursued by police and prosecutors against a backdrop of hostile media coverage. This had ranged from "criticism and comment through inaccuracy and bias to downright cruelty and vitriol".
He added: "This case has been described as the trial of the century. Much nonsense, complete nonsense, has been spoken about these proceedings. Awful things have been said about Rebekah Brooks herself over the last few years."
Laidlaw said the prosecution had failed to produce the "mass of evidence, a welter of material" despite a huge police investigation.
"There was no smoking gun in the evidence," he said.
"We have seen the prosecution construct a case based not on direct evidence but around inference."
TWISTING AND TURNING
Brooks, 45, who ran Murdoch's News Corp's British newspaper arm News International until 2011, denies conspiracy to illegally intercept voicemails on mobile phones, authorising illegal payments to public officials, and attempting to hinder the police investigation.
She edited the News of the World from 2000 to 2003, handing over to her deputy Andy Coulson, who later became Prime Minister David Cameron's media chief.
Coulson, 46, is also on trial, facing conspiracy to hack phones and authorising illegal payments, charges he denies.
Three news editors of the paper, two of whom - Greg Miskiw and Neville Thurlbeck - worked under Brooks, pleaded guilty to phone-hacking offences before the trial started, along with Glenn Mulcaire, a private detective who worked for the paper.
Laidlaw said the prosecution case was that those three pleas meant Brooks must have known about hacking.
"It just doesn't follow," he added. "The mere fact that Miskiw and Thurlbeck have pleaded guilty ... does not tell you anything about when their involvement in phone-hacking began."
Laidlaw said the evidence showed there were only 12 occasions when it could be proved that Mulcaire had been tasked with a hacking under her editorship.
"If there was very little, hardly any, then 'she must have known' is not a very good point at all," he said.
"(The prosecution) have fallen a long way short of proving hacking was prolific under Mrs Brooks. That matters, that matters a lot.
"If hacking really occurred under Mrs Brooks, the prosecution cannot prove from the volume of hacking she must have known."
The trial is expected to conclude next month.
© Thomson Reuters 2014