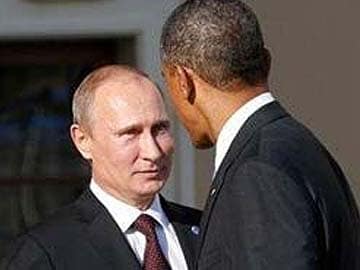 Washington:
US President Barack Obama has no plans to meet one-on-one with Russian counterpart Vladimir Putin in June when both attend the D-Day anniversary in France, the White House said on Thursday.
Russia's intervention in the political crisis in Ukraine has triggered the worst chill in relations between Washington and Moscow since the end of the Cold War.
Both leaders are expected to attend the June 6 ceremony of remembrance in Normandy to mark the 70th anniversary of the Allied landings in Nazi-occupied France during World War II.
But Caitlin Hayden, spokeswoman for Obama's National Security Council, told reporters: "There's no plan for President Obama to meet with President Putin.
"We understand France invited all countries that were party to the conflict and we would not expect France to dis-invite Russia from this historic event... because of what's taking place in Ukraine."
State Department spokeswoman Jen Psaki said that "our current differences over Ukraine notwithstanding, the fact remains that the United States, the United Kingdom, France, the Soviet Union and many others united 70 years ago to defeat Nazism."
"This was a historic victory and those who sacrificed to bring peace to Europe deserve to be honored as part of that."
Hayden added that although there were no plans for Obama to meet Putin, "they'll be at the same events so I can't rule out they won't speak on the margins, as is the case at any multilateral event."
Obama's administration had attempted in recent years to build improved relations with Russia, Washington's former Cold War foe.
But this "re-set" foundered on divisions over Syria, where Moscow is propping up Bashar al-Assad's regime, and Ukraine, where Putin seized the Crimea region and encouraged separatist rebels.
Get Breaking news, live coverage, and Latest News from India and around the world on NDTV.com. Catch all the Live TV action on NDTV 24x7 and NDTV India. Like us on Facebook or follow us on Twitter and Instagram for latest news and live news updates.