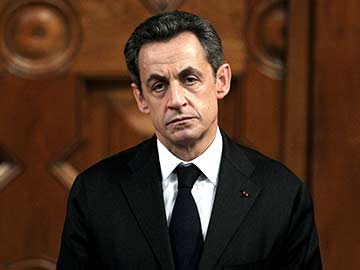 Paris:
Nicolas Sarkozy was hit on Wednesday with charges including corruption and influence peddling in a dramatic legal move that threatens to torpedo the former president's hopes of a political comeback.
The decision to charge the right-wing leader came after he was quizzed for 15 hours by judges investigating an alleged attempt to interfere in judicial proceedings in another case.
Sarkozy, who vehemently denies any wrongdoing in all the legal cases he is implicated in, said he would be talking to France's biggest television and radio stations on Wednesday evening.
It will be his first major broadcast interview since he lost the 2012 presidential election.
After Tuesday's lengthy questioning under detention in a Paris police station, Sarkozy, 59, was put before a judge in the early hours of Wednesday.
The judge accepted the examining magistrates request for the former president to be "mis en examen" -- literally "put under investigation" -- the nearest equivalent of being charged in the French legal system.
Sarkozy's long-standing lawyer Thierry Herzog and senior magistrate Gilbert Azibert were charged with the same offences.
After the hearing, Sarkozy was allowed to return to the Paris home he shares with his ex-supermodel wife Carla Bruni and their young daughter, but he can be recalled to custody for fresh questioning at any time.
He was the first former president of France to be detained in a criminal probe but not the first to be charged with corruption.
Jacques Chirac was convicted in 2011 on graft charges but escaped prison on compassionate grounds due to ill-health.
The charges against Sarkozy carry a theoretical maximum prison term of 10 years in the event of a conviction but legal experts regard custodial sentences in this case as unlikely.
Vendetta?
President Francois Hollande said his predecessor must "benefit from the presumption of innocence," while Prime Minister Manuel Valls dismissed suggestions that the former president was being hounded by the Socialist government.
"It's not us who are asking these judges to launch investigations," Valls said.
Investigators suspect Sarkozy tried to obtain information from Azibert about confidential proceedings in an illegal election campaign financing case being considered by one of France's highest courts, and that he was tipped off by a senior figure when judges tapped his phones last year.
Sarkozy, 59, has faced virtually non-stop legal battles since he left office following his defeat by the Socialist Party's Hollande in the 2012 presidential vote.
He had been expected to attempt a political comeback in time for the next presidential poll in 2017, but those plans now look to have been wrecked.
He had been widely expected to stand for the presidency of his UMP party later this year in the first step of the comeback, but such a move would be tricky with charges hanging over him. Even if the charges are eventually dropped, that is unlikely to happen for several months.
Sarkozy's close allies denounced what they see as a witch-hunt against their man. "I question the impartiality of one of the judges who is nourished by hatred," said Nice mayor Christian Estrosi.
But expressions of support from more senior figures on the centre-right of French politics were cautious or lukewarm.
"His defence will demonstrate his innocence, that's what I hope," tweeted Alain Juppe, the former prime minister who is seen as Sarkozy's main rival to be the centre right's candidate in 2017.
Sarkozy's mother-in-law, Italian actress Marisa Bruni Tedeschi, said the move smacked of a "vendetta."
"It's just the right moment to cut off his legs from under him," she told Italy's La Stampa daily. "The move comes precisely at the moment when conditions are being created for him to return as the head of the UMP."
Kadhafi connection
The case was launched after judges looking into the alleged financing of Sarkozy's 2007 election campaign by former Libyan dictator Moamer Kadhafi obtained an unprecedented and controversial authorisation to tap the former president's phones from April 2013.
After four fruitless months they discovered Sarkozy had a secret phone registered under an assumed name, and recordings from that device led to the opening of the case in which he has now been charged.
At its root are allegations that Sarkozy was helped to victory in the 2007 election with up to 50 million euros ($70 million at the time) from Kadhafi and envelopes stuffed with cash from France's richest woman, L'Oreal heiress Liliane Bettencourt.
He dismisses the Kadhafi claims as ridiculous in light of his leading role in the dictator's 2011 overthrow, and charges against him in the Bettencourt case were dropped last year.
The Kadhafi investigation is ongoing, as are several other cases in which Sarkozy has been implicated.
Among them is a scandal over the funding of his campaign for re-election in 2012 which resulted in the UMP's leader resigning last month.
Jean-Francois Cope stepped down after it emerged that more than 10 million euros ($13.6 million) spent in support of Sarkozy had been passed off as party expenses.