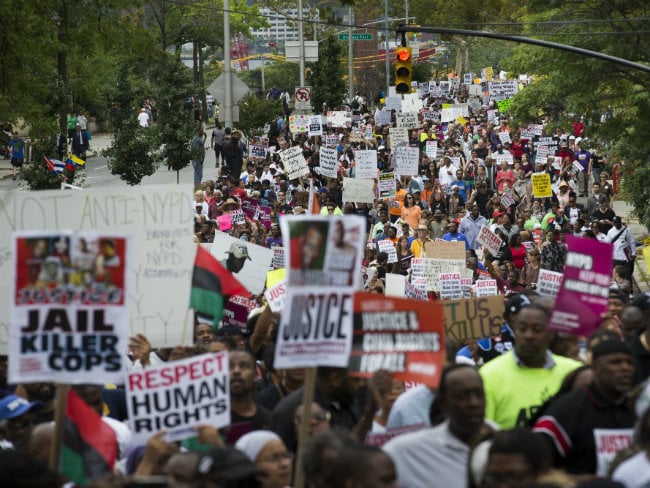 New York:
One week after violence in Ferguson, New York is anxiously bracing for a separate grand jury decision in another racially charged case involving a white police officer and the death of an African-American.
Eric Garner, a 43-year-old father-of-six, died after being placed in a chokehold by New York Police Department officer Daniel Pantaleo while being arrested on suspicion of selling illegal, untaxed cigarettes in Staten Island on July 17.
Cellphone footage of the confrontation showed Garner, who has asthma, complaining "I can't breathe" after being bundled onto the ground by several police officers before falling unconscious.
Garner was declared dead at a local hospital.
A New York medical examiner ruled the death a homicide caused in part by the chokehold used during the arrest.
A grand jury in New York has been hearing evidence in the Garner case since September and reportedly heard from its final witness last week.
A decision over whether or not to charge the officers involved could be imminent, according to local media reports.
New York authorities are preparing to deal with an outbreak of the sort of violence which erupted in Ferguson, Missouri last week after a grand jury decided not to charge a white police officer over the shooting of unarmed black teenager Michael Brown.
Protests against the Ferguson decision rippled across the United States, including several demonstrations in New York.
A group of protesters protested in the Macy's department store in New York on "Black Friday", aiming to disrupt the traditional post-Thanksgiving shopping bonanza. Another protest took place on Saturday in Harlem.
Civil rights activist Al Sharpton on Saturday launched a "countdown" to the grand jury decision at his National Action Network headquarters in Harlem.
"I want people to know that it's not just Ferguson, it's right here and we are going to watch this grand jury," said Sharpton during meetings with Eric Garner's mother, Gwen Carr, and wife.
The activist also met with the sister of Akai Gurley, a 28-year-old black man shot dead by police in the hallway of a housing project in Brooklyn on November 21.
Sharpton meanwhile appealed for calm if the New York grand jury decides not to indict the police officer involved in Garner's death.
"Can we show in New York something different?" Sharpton said. "We are not going to have violence but we want justice."
Garner's mother meanwhile has expressed her hope for a "fair decision" from the grand jury.
"There's no way they should come back without indicting that police officer," Carr said.
"I'm still hoping for the best, and hoping they do the right thing."