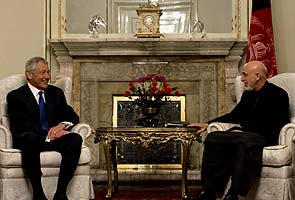 Kabul:
Chuck Hagel was faced with a suicide bomb on his first day in Kabul as the newly confirmed US Defence Secretary.
His second day was spent dealing with President Hamid Karzai ratcheting up the rhetoric against the US and the Taliban. In a speech to mark Women's Day, President Karzai, accused the Americans of going behind his back and talking with the Taliban on its own.
"The Taliban are in daily talks with the Americans but detonating bombs in Kabul and Khost. They claim they are showing strength to America, but they are not," he said.
Karzai's comments forced the new US Defence Secretary into a public denial after a scheduled joint press conference was cancelled.
"We did discuss those comments,"the Secretary said, responding to a reporter's question about his meeting with Mr Karzai.
"I told the President it was not true that the United States was unilaterally working with the Taliban in trying to negotiate anything. Any negotiation with the Taliban to build peace and political consensus in Afghanistan must come from the Afghan government," Mr Hagel said, adding, "Obviously, the United States will support efforts, if they are led by the Afghans, to come to some possible resolution, if that eventually evolves."
Later in his comments, Secretary Hagel acknowledged, "When a nation would ... think of engaging an enemy they're still at war with, it's difficult."
But, he added that he always has believed it's wise for nations to engage with and reach out to each other. 'That doesn't mean you are prepared to negotiate; it may never get to that point," adding, 'But, I think it's far preferable to war."
Before meeting Mr Hagel, the Afghan President in his speech to government officials and other dignitaries hit out at both the US and the Taliban in the same breath. Hamid Karzai said, 'The bombs which exploded in Khost and Kabul(on saturday) were not to show strength (Taliban strength) to America, it was at the service of America. It was at the service of the thought of 2014 (when foreign troops are set to leave Afghanistan). They are trying to frighten us into thinking that if the foreigners were not in Afghanistan, we would be facing these sorts of incidents."
America and Afghanistan are locked in hard-ball negotiations on a strategic agreement and on how many coalition troops, if any, will remain after the withdrawal of combat troops in 2014. The US is insistent on clear-cut legal guarantees of immunity for personnel. America had withdrawn from Iraq after such guarantees didn't come. President Karzai, on the other hand, is adamant that Afghan law has to have precedence and all detention centres and jails need to be under Afghan control. The complete transfer of the Bagram prison (also known as Afghanistan's Guantanamo) was also postponed while Mr Hagel was visiting.
The US Defence Secretary responded to Hamid Karzai's comments on the tricky transition process too. Mr Hagel told reporters after a dinner meeting at the Arg- the Presidential Palace, "The transition in Afghanistan is a critically important time. As U.S. and coalition forces redefine their roles and Afghan forces assume greater responsibility," he said, "there will be new challenges and new issues to face beyond the battlefield. It's a different time, a different dynamic, a different environment,' adding, 'I don't think any of these are challenges that we can't work our way through."
From 2008 to now, the Mr Hagel told reporters, he had seen dramatic changes in Afghanistan and a renewed commitment from both NATO and Afghan leaders. The Secretary said that --his great faith in U.S. military leaders and diplomats in Afghanistan - tells him, "We're on the right path, and I think we will meet these transition dates.'
But, the public rhetoric aside - both sides, the region, and India are acutely aware of the dangers that lurk up ahead in the distance. Chuck Hagel is on the same page as President Obama in his goal to end the war in Afghanistan. But, what that end will bring--is what the world is worried about. For, as history stands testimony--no one, especially not America would want elements from Afghanistan to end up biting the hand that feeds--once again.