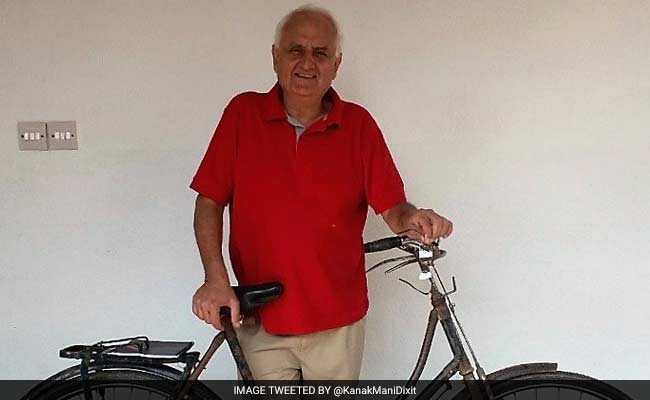 Kathmandu:
Veteran Nepalese journalist Kanak Mani Dixit, who was arrested by an anti-graft body for allegedly misappropriating a huge amount of money by misusing his public post, was today admitted to the ICU of a hospital here after he complained of high blood pressure.
Mr Dixit, the publisher of Himal and Nepali Times magazines who is considered well-disposed towards India and also writes for leading India media outlets, was admitted to the ICU in Bir Hospital to check uncontrolled blood pressure and heart conditions, his family sources said.
Mr Dixit, who is also a rights activist and the Chairman of Sajha Yatayat, the public transportation bus system in Nepal which serves Kathmandu Valley, was arrested from his Patan residence near Kathmandu yesterday by a team of around 20 police personnel deployed by the Commission for the Investigation of Abuse of Authority (CIAA).
Mr Dixit was kept in the custody of Metropolitan Police Circle, Gaushala.
The anti-graft body has been probing the property details of Mr Dixit on suspicion of amassing property disproportionate to his known source of income.
Mr Dixit, 60, had been ignoring summons by the constitutional anti-graft body and was "on the run", according to the CIAA.
In a statement, the watchdog had said that Mr Dixit was arrested on the basis of complaints received against him that he misused his public position as the chairman of Sajha Yatayat to accumulate property illegally.
Meanwhile, Federation of Nepalese Journalists condemned the arrest, and demanded full investigation into the matter.
"We condemn this action taken by the CIAA against a journalist, a pro-democracy and human rights activist. He is being detained in inhuman conditions, and we demand an immediate end to his physical and psychological harassment.
Mr Dixit should be released unconditionally forthwith," FNJ said in a statement.
"We need to know whether there was misuse of power or prejudice involved in the process of arresting journalist Dixit by CIAA, which need to be made clear," said FNJ president Mahendra Bishta.
"We are constantly monitoring the process of action being taken against Dixit by the commission," he added.
The body expressed hope that the CIAA will investigate into all the aspects related to Mr Dixit before arriving at any conclusion in the matter.
"We are also keenly watching the process of investigation in this regard," he added.
Mr Dixit is accused of selling the organisational property as own inheritance and investing the income in other corporations. He has also been alleged to have procured a house and land in his name in the US. The total amount of alleged embezzlement was not known.
The civil society leader, however, told local media after the arrest that the move was following an undemocratic decision of CIAA chief Lokman Singh Karki.