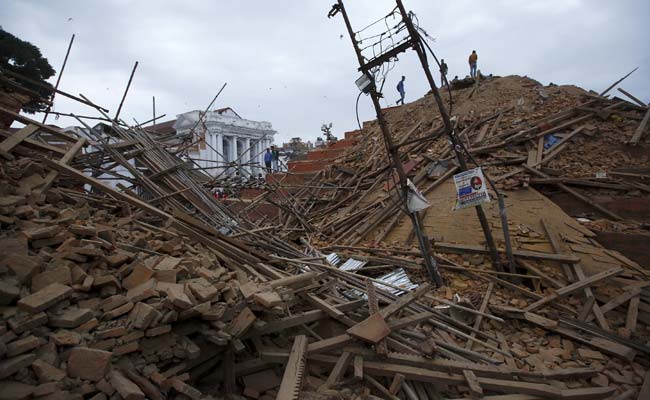 Kathmandu:
The devastating earthquake in Nepal has destroyed or badly damaged many temples both in the Kathmandu Valley and elsewhere.
Saturday's 7.9 magnitude quake and aftershocks throughout the day destroyed around 80 per cent of the temples in Basantapur Durbar Square in Kathmandu, the Kantipur News reported on Sunday.
These include the Kasthamandap temple, the Panchtale temple, the Dasa Avtar temple and the Krishna temple.
Kasthamandap, which inspired the name Kathmandu, is an early 16th century wooden monument.
Eighty per cent of Nepal's nearly 29 million people are Hindus. Buddhists account for 10 per cent and Muslims four per cent.
Siobhan Heanue, a reporter with ABC News Australia, told CNN that she was wandering at an ancient temple complex in Kathmandu when the earthquake struck. Several temples collapsed around her.
Scores of centuries-old historical monuments, including the iconic Dharahara tower in Kathmandu, were reduced to rubble in the powerful tremblor that claimed more than 2,000 lives.
A few monuments, including the Kumari temple and the Taleju Bhawani, have partially collapsed, the Kantipur daily said.
Dozens of temples and historical buildings in Patan and Bhaktapur have also collapsed or have been partially damaged.
The report said the top of the Jay Bageshwori temple at Gaushala and parts of the famed Pashupatinath temple, Swyambhunath, Boudhanath Stupa and Ratna Mandir have suffered partially damage.
In Patan, the Char Narayan Mandir, the Taleju Temple, the Hari Shankar temple and Uma Maheshwor temple have suffered destruction. And so has the Machhindranath temple at Bungmati, it added.
Several bodies, including those of women and children, were recovered from the remains of the collapsed monuments, the daily said.
Rescue teams said at least 70 bodies were recovered from the debris of the Dharahara tower and more bodies from the remains of the temples in Durbar Square.
The Durbar Square is one of the most popular tourist hotspots in Kathmandu, for foreign and domestic tourists. It is a favourite hangout place for locals.
In Tripureshwor, the Kal Mochan Ghat, a Mughal-architecture inspired temple, was destroyed and the nearby Tripura Sundari temple also suffered significant damage, the daily said.
In Bhaktapur, several monuments, including the Fasi Deva temple, the Chardham temple and the 17th century Vatsala Durga Temple were fully or partially destroyed, it said.
"Outside the Valley, the Manakamana Temple in Gorkha, the Gorkha Durbar, the Palanchowk Bhagwati in Kavrepalan Chowk, the Rani Mahal in Palpa, the Janaki Mandir in Janakpur, the Churiyamai in Makwanpur, the Dolakha Bhimsensthan in Dolakha and the Nuwakot Durbar were partially destroyed."
The newspaper quoted Prushottam Lochan Shrestha, a historian, as saying that these monuments had been lost forever as rebuilding them was technically difficult and expensive.
"We have lost most of the monuments that had been designated as World Heritage Sites in Kathmandu, Bhaktapur and Lalitpur," he said. "They can't be restored to their original state."