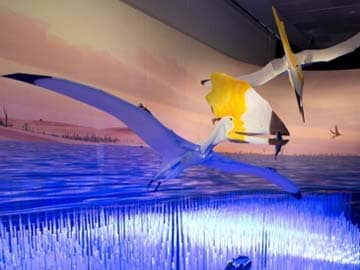 New York:
An international exhibition in New York explores the fascinating world of prehistoric flying reptiles, the pterosaurs who ruled the skies when dinosaurs ruled the earth millions of years ago.
"Pterosaurs: Flight in the Age of Dinosaurs," opens on Saturday and runs until January 2015 at the American Museum of Natural History, co-curated with an expert from Brazil.
It is the largest exhibition ever mounted in the United States about these flying reptiles that have long captured popular imagination and which play a starring role in any dinosaur movie.
In a full interactive experience, visitors can even "pilot" two species of flying pterosaurs over prehistoric landscapes via a sensor program that reproduces the human body's movements on a screen.
"Despite persistently captivating our popular imagination, pterosaurs are among the least well understood large animals from the age of dinosaurs," said museum president Ellen Futter.
They were the first vertebrates to fly, diversifying into more than 150 species ranging in size from a sparrow to a two-seater plane before becoming extinct 66 million years ago.
From the small Nemicolopterus crypticus of just 10 inches (25 centimeters), to the gigantic Quetzalcoatlus northropi of 10 yards (meters), the exhibition showcases many of the known pterosaurs through rare fossils and stunningly realistic models.
"It's just a fantastic exhibition, taking those bones and putting them into life," says co-curator Alexander Kellner, a paleontologist from Brazil's Museu Nacional in Rio de Janeiro.
Brazil, China and now Transylvania
The first pterosaur fossil ever found, a Pterodactylus antiquus, was part of a collection belonging to a German prince in the 18th century and had fascinated scientists for years.
Only in 1809 was it correctly identified by the French naturalist Georges Cuvier, who named it in reference to the Greek words "ptero" or wing and "dactyle," which means finger.
Pterosaurs had developed their characteristic long front limbs and fins adapted to flying by more than 200 million years ago.
Like other flying animals, they spent time on land, where the general consensus is that they moved on all fours.
For more than a hundred years paleontologists focused their searches on Bavaria in Germany, southern England and the US interior.
But in the last two decades, northeastern Brazil and northeast China have seen a "renaissance in terms of discovery."
"We had three places for over a hundred years. Now we have two more places that are even better than the other three," said Mark Norell, curator and chair of the museum's paleontology division.
"It's just exploded in terms of diversity as well as in number of specimens."
This revival is not only the result of new excavation sites, but also stems from "more support" for science in the two emerging economies of Brazil and China, said Kellner.
While Brazil is known for fossils preserved in "3D," in China there is "a lot of diversity," he said.
A sixth area, Transylvania in Romania, has more recently emerged as a new magnet for paleontologists, with the discovery of some "spectacular specimens," said Norell.
One of the fossils found in the region was of a species "even stronger and heavier than the Quetzalcoatlus northropi" and is still little known.