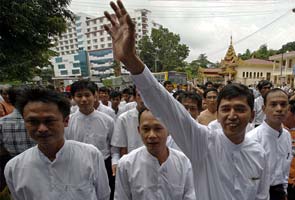 Yangon:
Myanmar freed some of its most famous political inmates on Friday, sparking jubilation outside prison gates while signaling its readiness to meet Western demands for lifting economic sanctions.
Prominent political activists, leaders of brutally repressed democratic uprisings, a former prime minister, ethnic minority leaders, journalists and relatives of the former dictator Ne Win were among those released. State media described the presidential pardon freeing 651 detainees as allowing them to take part in "nation-building."
It was the latest in a flurry of accelerating changes in Myanmar sought by the West, including starting a dialogue with opposition leader Aung San Suu Kyi and Thursday's signing of a cease-fire in a long-running campaign against Karen insurgents.
Myanmar likely now feels the ball is in the West's court to lift the crippling economic measures.
But the United States and allies may take a wait-and-see approach, to see if government truces with various ethnic rebel groups hold, discussions with Suu Kyi move forward and scheduled April elections appear free and fair.
"I think we are close to the removal of Western sanctions," said Monique Skidmore, a Myanmar expert at the University of Canberra, adding that the U.S. and others might first wait to see Aung San Suu Kyi take a seat in parliament. "There's a sense that there's still more to go before the sanctions will be removed."
Human Rights Watch called Friday's release "a crucial development" in promoting human rights in Myanmar but stressed that an unknown number of political prisoners still remain detained. The group called for their release and urged the government to allow international monitors to enter prisons to verify the numbers and whereabouts of those still jailed.
Until Friday, as many as 1,500 political prisoners were believed to be behind bars, by some counts, and the exact tally of those released on Friday will likely take several days. Suu Kyi's party said it was expecting the release of many of the 600 dissidents it tracks.
"The release of such a large number of political prisoners demonstrates the government's will to solve political problems through political means," said Win Tin, a senior member of Suu Kyi's party who previously spent 19 years in prison but was released under a 2008 amnesty.
Among the high-profile inmates released were Min Ko Naing, a nearly legendary student leader from Myanmar's failed 1988 pro-democracy uprising.
Cheers and applause erupted outside the Thayet prison, 545 kilometers (345 miles) north of Yangon, where a huge crowd gathered to see the charismatic activist. Min Ko Naing, leader of the "88 Generation Students Group," was serving a 65-year prison sentence. His most recent arrest came in August 2007 along with 14 other student leaders at a protest against fuel price increases that preceded the monk-led Saffron Revolution, which was violently suppressed.
Activists arrested after the abortive 2007 Saffron Revolution - named for the colour of the robes worn by the country's Buddhist monks - were also freed. Among them was Shin Gambira, 32, a militant monk who helped lead the anti-government protests. Family members said he told them he was in good health.
Also freed was ethnic leader Khun Tun Oo, the chairman of the Shan Nationalities League for Democracy, who was serving a 93-year sentence. He was arrested along with several other Shan leaders in February 2005 and charged with treason.
Traditional Shan music blasted from speakers outside Khun Tun Oo's family home in Yangon, where a crowd danced as they awaited his return.
The government recently signed a preliminary cease-fire agreement with Shan rebels, among several other pacts to end ethnic fighting. The Shan Herald Agency for News, an online news site close to the rebels, said five or six Shan political prisoners were freed on Friday.
Jailed former Prime Minister Khin Nyunt also was freed. He was ousted in 2004 after falling out of favour with the junta and convicted a year later of insubordination and corruption and sentenced to 44 years under house arrest.
"The democratic process is on the right track," the 73-year-old Khin Nyunt told reporters in Yangon, saying he did not plan to return to politics.
The United States, members of the European Union and Canada are among nations that have imposed sanctions on Myanmar. The U.S. and Britain have previously said they would remain in place until more political prisoners are released.
"The United States wants to be a partner with Burma," Secretary of State Hillary Clinton said during her recent historic visit to Myanmar. "We want to work with you as you further democratization, as you release all political prisoners, as you begin the difficult but necessary process of ending the ethnic conflicts that have gone on far too long, as you hold elections that are free, fair, and credible."
Get Breaking news, live coverage, and Latest News from India and around the world on NDTV.com. Catch all the Live TV action on NDTV 24x7 and NDTV India. Like us on Facebook or follow us on Twitter and Instagram for latest news and live news updates.