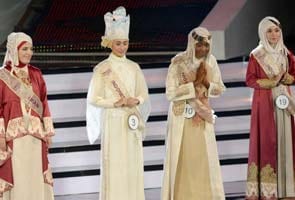 Jakarta:
Muslim women in headscarves and elaborately embroidered dresses took to the stage Wednesday for the finale of an Islamic beauty pageant in Indonesia, a riposte to the Miss World contest that has sparked hardline anger.
The twenty contestants began the Muslimah World show by elegantly descending a flight of stairs into public view - all covered head to toe wearing shimmering and sparkling materials.
While the women, from six countries, will be assessed on their appearance the judges are also looking at piety and Islamic knowledge and skills, such as recitation of the Koran.
All contestants must wear headscarves in their daily lives.
"We're just trying to show the world that Islam is beautiful," Obabiyi Aishah Ajibola, a 21-year-old contestant from Nigeria, told AFP backstage in the capital, Jakarta, before the final got under way.
"We are free and the hijab (Muslim headscarf) is our pride," she said, adding that the pageant was "nothing like Miss World, where women expose their bodies".
Organisers say they want to show Muslim women there is an alternative to the idea of beauty put forward by the British-run Miss World pageant, and also want to show that opposition to the event can be expressed non-violently.
Eka Shanti, who founded the pageant three years ago after losing her job as a TV news anchor for refusing to remove her headscarf, bills the contest as "Islam's answer to Miss World".
"This year we deliberately held our event just before the Miss World final to show that there are alternative role models for Muslim women," she told AFP.
"But it's about more than Miss World. Muslim women are increasingly working in the entertainment industry in a sexually explicit way, and they become role models, which is a concern."
Hosted by Dewi Sandra, an Indonesian actress and pop star who recently hung up her racy dresses for a headscarf, the pageant began with a choral performance of a song about modesty, one the traits judges will be looking for in the winner.
While the contestants looked glamourous, the venue, the exhibition hall of a shopping mall, was a far cry from the likely lavish setting of the Miss World final on Bali.
And the pageant, which features Indonesian Islamic designer wear and popular bands, is a starkly different way of protesting Miss World than the approach taken by Islamic radicals.
Snowballing protest movement
Thousands have taken to the streets in Indonesia in recent weeks to protest Miss World, denouncing the contest as "pornography" and burning effigies of the organisers.
Despite a pledge by organisers to drop the famous bikini round, radical anger was not appeased and the protest movement snowballed.
The government eventually bowed to pressure and ordered the whole three-week pageant be moved to the Hindu-majority island of Bali, where it opened on September 8.
Later rounds and the September 28 final were to be held in and around Jakarta, where there is considerable hardline influence.
More than 500 contestants competed in online rounds to get to the Muslimah World final in Indonesia, one of which involved the contenders comparing stories of how they came to wear the headscarf.
Contestants will retell these stories and answer questions from judges at the final, with the 20 women whittled down before a winner is crowned and awarded 25 million rupiah ($2,179) and trips to Mecca and India.
"What I will be looking for is strength of personality -- someone with a vision for the future, who gives back to their community and shows that beauty is not just about bodies," said Jameyah Sheriff, an education expert from Malaysia who is on the judging panel.
The contest was first held in 2011 under a different name and was only open to Indonesians, Shanti said, but after the media began comparing it to Miss World, it was rebranded as a Muslim alternative to the world-famous pageant.
Because of its popularity, organisers accepted foreign contestants this year, with Iran, Malaysia, Bangladesh, Brunei, Nigeria and Indonesia represented.