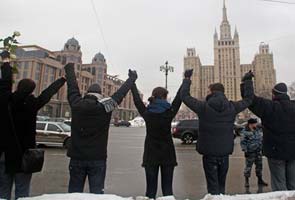 Moscow:
Moscow police on Tuesday detained two prominent leaders of the protest movement against newly-inaugurated President Vladimir Putin after they staged an unusual night-time sit-in close to the Kremlin.
Anti-corruption crusader Alexei Navalny and ultra-leftist Sergei Udaltsov were taken to a nearby police station where they were expected to be fined but later freed, their lawyer Nikolai Polozov wrote on Twitter.
He said they were going to be charged with an administrative public order violation.
Mr Putin on Monday was inaugurated for a historic third term as president of Russia where he faces a new challenge from the outburst of protests against his 12-year dominant rule.
Mr Navalny and Mr Udaltsov had spent the night out in the open with hundreds of other anti-Putin protestors in the Kitai Gorod district of central Moscow barely a kilometre (half a mile) from the Kremlin walls.
The action was continuing on Tuesday morning with around 100 people still present, an AFP correspondent said. They were not brandishing slogans and some were dozing in sleeping bags.
Spending the night in the open appears to be a new tactic by the opposition, whose more radical wing has called for civil disobedience to ensure their voice is heard.
Mr Navalny had described the action as an "indefinite popular walkabout". Police initially stood by without intervening but they later arrested the two leaders of the action.
Police have said they have made almost 750 arrests since Sunday in Moscow as opposition protestors defied a heavy riot police lockdown in the city.