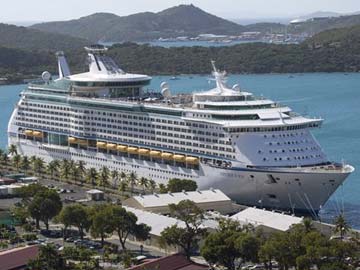 San Diego:
A cruise ship with more than 100 passengers and crew suffering from a gastrointestinal ailment caused by Norovirus, have arrived in San Diego, a cruise line spokeswoman said on Thursday.
The Crown Princess, carrying 3,141 passengers in all, docked in San Diego and planned to continue on to Los Angeles on its normal itinerary along the coast of California and Northern Mexico. Onboard testing proved the presence of Norovirus, said Princess Cruises spokeswoman Karen Candy.
Outbreaks of Norovirus have been reported by nearly a dozen cruise lines sailing from U.S. ports in recent years, including Holland America, Celebrity, Cunard Line and a National Geographic cruise on Lindblad Expeditions.
Travel medicine expert Michael Zimring of Mercy Medical Center in Baltimore said the outbreaks, while unpleasant, are usually mild.
"These outbreaks happen because you have more people in a small area," Zimring said. "Travel means not always following good hand washing rules, which most people don't follow anyway."
Zimring said buffets on land or sea can be vulnerable to contamination by the diners themselves.
"People like buffets to get their money's worth, and buffets are easy for boats to do," he said. "But you see kids sticking their fingers in things and people sneezing over them all the time."
Last week, a Royal Caribbean Cruise Line ship, Grandeur of the Seas, reported an outbreak of Norovirus that sickened 117 passengers and crew during a cruise from Baltimore.
Norovirus is the most common cause of contagious gastrointestinal illness, with nausea, vomiting and diarrhea as the most common symptoms. The U.S. Centers for Disease Control and Prevention estimates that there are about 20 million cases of Norovirus in the U.S. each year, resulting in 570 to 800 deaths. It usually clears up in one to three days, the CDC says.
© Thomson Reuters 2014