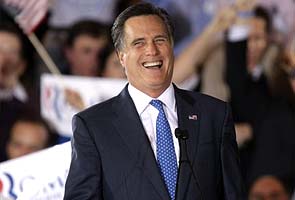 Tampa, Florida:
The credentials are impeccable. He is the son of former auto executive turned Michigan Governor. He has a law degree and an MBA from Harvard.
In 1984, he founded a private equity firm Bain Capital, which went on to become one of the most successful firms of its kind in the world. It now manages roughly $65 billion in assets.
As President of the Organizing Committee, Mr Romney is credited with turning the 2002 Winter Olympics in Salt Lake City, which were plagued with corruption scandals and organisational delays, into a grand success
He has served as the Governor of Massachusetts, a Democratic bastion and home of the Kennedys, where he enjoyed high approval ratings throughout his term.
But this is no regular election year. At a time when the Occupy Wall Street Movement has highlighted the issue of income inequality in America, Mr Romney's career in private equity, which has earned him an estimated $250 million, is at best considered a mixed blessing.
His wealth has made him vulnerable to attacks from opponents for employing many of the techniques used to avoidance paying taxes routinely used by America's super rich, including the use of bank accounts in offshore tax havens.
A defiant Mr Romney has said "I am not going to apologise for being successful," but it isn't just his money that could be a problem.
Mr Romney has long been derided for his serial flip-flopping on key issues. As the Governor of Massachusetts, Mr Romney signed into law a bill that required every individual to carry a health insurance or pay a fine. He now vehemently opposes his own idea, when applied at the federal level by the Obama Administration.
Mr Romney entered office as a fiscal conservative, but a social moderate who supports abortion and gay rights, and passing a universal healthcare coverage plan. By the time he left office in 2007, Mr Romney had reversed many of those positions and started to project a more conservative profile, looking to a future on the national stage.
According to Professor Michael Doyle, Political Science expert, Columbia University, "This leads to suspicion amongst conservatives in the Republican Party. They regard him as an opportunist, a chameleon, someone who will say anything to get elected and therefore they doubt his conservative credentials."
US Republican presidential candidate Mitt Romney is well-known for his success in the business world. His track record in politics, however, is a bit more erratic. Mr Romney has made some phenomenal gaffes on the campaign trail.
There is the infamous reaction to the to the $80 billion bailout that revived the auto industry: Mitt wrote a New York Times op-ed titled "Let Detroit Go Bankrupt."
Then there was Mr Romney's foreign trip in late July, which was supposed to help burnish his foreign policy credentials. He'd hardly begun his first overseas trip as the Republican candidate for President when he enraged the British by doubting their readiness for the Olympics, earning him the headline " Mitt the Twit" in British papers.
Days later, he infuriated Palestinians while visiting Israel when he asserted at a fundraiser that Israel has prospered more than the Palestinians in part because of a superior "culture."
"There is a lot of nervousness about Mr Romney among Republicans. He has run a poor campaign since he won the nomination, there is just no doubt about that," says Norm Ornstein, Political Analyst, American Enterprise Institute.
And then there is the elephant in the room. Mitt Romney is a member of the Church of Jesus Christ of Latter Day Saints, colloquially known as the "Mormons."
Mormons have made significant contributions to American life and achieved high positions in business, government, and academia. Yet their church's unorthodox beliefs regarding Christianity, its encouragement of polygamy until the early twentieth century, and the generally secretive nature of many of its religious practices have made many Americans somewhat suspicious of Mormons.
Mr Romney has spent much of the past few months on the defensive - about everything from his tenure at Bain Capital to his refusal to release tax returns. He's still struggling to win over hardcore conservatives who are sceptical about his record and those in the middle class who are undecided, wary about his wealth.
Now, as he prepares to accept his party's nomination at the Republican National Convention in Tampa, Florida, Mr Romney is hoping the political winds are once again on his side.