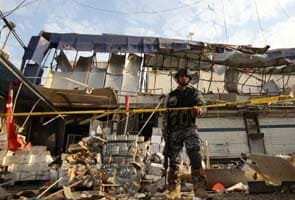 Militants killed 25 Iraqi security forces in a wave of attacks on Thursday, and 15 other people died in other attacks including 10 mourners in twin bombings, officials said.
The latest attacks come as Iraq witnesses a surge in violence that has killed more than 2,500 people already this year, including over 240 so far this month.
Analysts point to widespread discontent among Iraq's minority Sunni community, and the failure of the Shiite authorities to address their grievances, as the main factors driving the increase in violence.
In the single deadliest attack, gunmen shot dead 14 members of the Iraqi security forces, including 11 charged with protecting the country's vital oil infrastructure, on the road between Haditha and Baiji, northwest of the Iraqi capital.
In another bloody attack, a car bomb ripped through a funeral tent where family members of a Shiite man were receiving condolences in Muqdadiyah, northeast of Baghdad, and a suicide bomber detonated explosives when emergency personnel arrived.
The blasts killed a total of 10 people and wounded 22.
Sunni militants including those linked to Al-Qaeda frequently target members of the Iraq's Shiite majority, whom they regard as apostates.
Iraq was plagued by sectarian violence that killed tens of thousands of people in past years, and there are persistent fears that tensions will again boil over into all-out conflict.
In Tikrit, north of Baghdad, three roadside bombs targeted police patrols, killing three policemen and wounding five.
And in Khaldiya, a town in Anbar province, militants opened fire on a police station, after which one suicide bomber detonated an explosives belt in the station, and another blew up an explosives-rigged car, killing four police and wounding eight.
One of the attackers was also shot dead during the assault.
Militants also fired three mortars at the police directorate in Fallujah, also in Anbar, after which a suicide car bomber struck near the building, and clashes broke out.
One policeman was killed and three more wounded in the violence.
The attacks came after a suicide bomber detonated an explosives-rigged vehicle near a convoy on a highway in Anbar on Wednesday night, killing two policemen and wounding two others.
A car bomb also rocked south-central Baghdad on Thursday, killing one policeman and two civilians, and wounding nine.
In the northern city of Mosul, gunmen killed a soldier in front of his home, and a roadside bomb killed a policeman and wounded another.
Another man was shot dead south of Mosul, while gunmen killed a man in the Sharqat area, northwest of Baghdad.
And in the northern town of Tuz Khurmatu, a car bomb wounded 32 people, while two other car bombs northwest of the city of Kirkuk wounded 14.
Both areas are part of a swathe of north Iraq territory that the autonomous Kurdistan region wants to incorporate over the strong objections of the federal government in Baghdad - a dispute that diplomats and officials say is one of the most serious long-term threats to Iraq's stability.