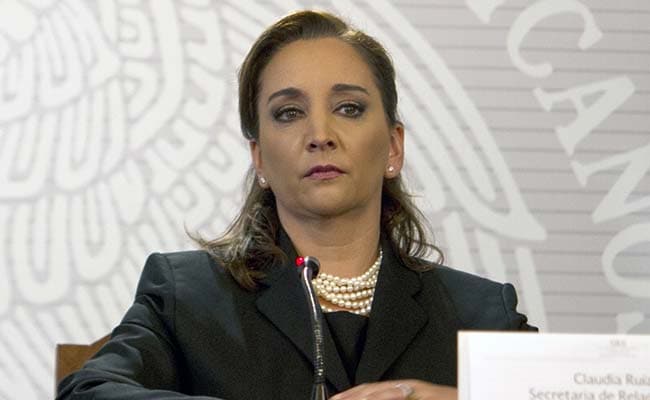 cairo:
Mexico's foreign minister visited a Cairo hospital Wednesday to meet survivors of an Egyptian air strike that mistakenly killed eight Mexican tourists, after President Enrique Pena Nieto expressed his country's "outrage".
The Mexican survivors have said their tour group came under aerial attack on Sunday in what the Egyptian interior ministry described as a botched operation against militants in the Western Desert. Four Egyptians were also killed.
Foreign Minister Claudia Ruiz Massieu arrived in Cairo early on Wednesday seeking answers from the Egyptian government, which said it was still investigating the incident.
She will meet President Abdel Fattah al-Sisi after she has visited the wounded tourists at Dar Al Fouad hospital, the Egyptian presidency said.
The Egyptian government has said guides took the tourists into a restricted zone, an accusation vehemently denied by a union representing the guides.
In a letter addressed to Mexicans on Tuesday, Egyptian Foreign Minister Sameh Shoukry expressed his "deepest condolences" for the incident.
But he stopped short of an apology, saying there was a probe under way and that "the chain of events is still confusing and unclear".
Sisi called Pena Nieto on Tuesday to express his "most sincere condolences" over the "tragic incident," the Mexican leader's office said in a statement.
"President Pena Nieto expressed his deep dismay and sadness over the death of our citizens, as well as the pain and outrage that these unprecedented events have caused within Mexican society," the statement said.
His foreign minister, accompanied by relatives of four the victims, will try "to obtain first-hand information that would clarify the circumstances of this deplorable event," a statement from her ministry said.
In Mexico, details of the victims began to emerge from families and friends.
They reportedly included 41-year-old musician Rafael Bejarano Rangel, whose mother was wounded in the strike, as well as former university professor Luis Barajas Fernandez and model agency head Queta Rojas.
A former lawmaker, Maria Elena Cruz Munoz, was also feared dead.
Egypt said the tourists entered a restricted area in the Western Desert and were "mistakenly" killed as security forces chased jihadists who had abducted and beheaded an Egyptian.
The incident has proven embarrassing for security forces which regularly claim to have killed dozens of militants in air strikes, tolls that are difficult to independently verify.
Police escort
Hassan al-Nahla, head of Egypt's tour guides union, said the tourist group had received all the required permits and set off with a police escort from Cairo to Bahariya oasis, roughly 350 kilometres (220 miles) away.
About 80 kilometres from their hotel, they veered two kilometres into the desert for lunch, he said.
The place they chose for their picnic was a regular tourist stop, Nahla added.
"I don't blame anyone but I ask who is responsible for coordination, and why was it absent?
"If the military is dealing with terrorists, why were the authorities who issue permits not notified? Why was the tourism ministry not notified so it could coordinate with the tourism companies?"
Nahla told AFP the area where they stopped had never been a restricted zone.
"There was no notification on the ground, and no coordination," he said of the security operation.
The Western Desert is popular with tour groups, but is also a militant hideout, with Western embassies warning against non-essential travel there.
Last month, Egypt's branch of the Islamic State group, which calls itself Sinai Province, beheaded a Croatian oil worker who was abducted near Cairo, at the edge of the Western Desert.
IS in Egypt said on Sunday it had "resisted a military operation in the Western Desert" and published pictures of its fighters apparently engaging the military.
The incident is likely to raise further fears for Egypt's vital tourism industry, which has struggled to recover from years of turmoil.
Many Egyptians on social media have criticised the government for suggesting the tourists were at fault for straying into a restricted zone.
The country has struggled to quell a jihadist insurgency focused mainly in the Sinai Peninsula in the east since the military overthrew Islamist president Mohamed Morsi in 2013.
The military last week launched a wide-scale campaign to uproot militants in the peninsula, claiming to have already killed more than 200 jihadists.
Eleven soldiers have died in the operation, it said on Tuesday.
Cairo says hundreds of police and soldiers have been killed, many in attacks claimed by Sinai Province, which pledged allegiance to IS last year.