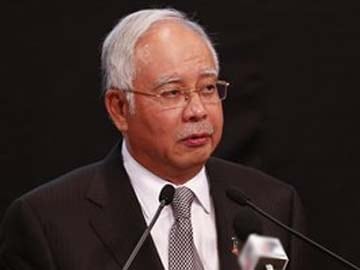 Kuala Lumpur:
Malaysia will release a preliminary report on the disappearance of flight MH370, Prime Minister Najib Razak said, as the government battles widespread criticism over the transparency of its investigation. (
MH370 relatives reject Malaysian conclusions on plane
)
"I have directed an internal investigation team of experts to look at the report, and there is a likelihood that next week we could release the report," Razak told CNN in an interview aired late Thursday.
The government was so far been tight-lipped about its investigation into the disappearance of the Malaysia Airlines jet, fuelling anger and frustration among the relatives of the 239 people aboard the plane. (
False leads in search for missing Malaysia Airlines jet: a long list
)
The Boeing 777 vanished on March 8 en route from Kuala Lumpur to Beijing and is now believed to have crashed in the Indian Ocean, where an Australian-led effort is under way to recover its flight data and cockpit voice recorders. (
Australia sees new search phase if mini-sub fails to find MH370
)
Malaysia's government has come under fire for a seemingly chaotic initial response, while the scarcity of official information on MH370 has prompted questions over its transparency.
Malaysia's transport minister pledged earlier this month that any data that is eventually recovered from the plane's "black box" will be publicly released. (
Malaysia vows to be transparent with 'black box' data
)
In his CNN interview, Najib also stressed that his government was not yet prepared to declare the passengers on board flight MH370 dead.
"At some point in time I would be, but right now I think I need to take into account the feelings of the next of kin - and some of them have said publicly that they aren't willing to accept it until they find hard evidence," Najib said.
But he added it was "hard to imagine otherwise".
Relatives of the passengers recently denounced the Malaysian government's suggestion that it would soon look into issuing death certificates for those on board despite no proof yet of what happened to the plane.