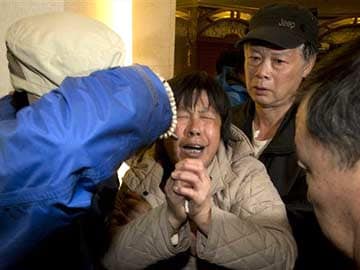 Kuala Lumpur:
Malaysia Airlines on Monday told relatives of those on board a jet that crashed in the Indian Ocean that they would be brought to the "recovery area", as the search for wreckage goes on.
Prime Minister Najib Razak announced that new satellite data showed Flight MH370 which went missing with 239 people aboard had been lost in the Indian Ocean, ending a 17-day ordeal for families awaiting news of its fate.
(Race is on to find Malaysia airliner MH370's black boxes)
"It is with deep sadness that Malaysia Airlines earlier this evening had to confirm to the families of those on board Flight MH370 that it must now be assumed the flight had been lost," the airline said in a statement.
"When Malaysia Airlines receives approval from the investigating authorities, arrangements will be made to bring the families to the recovery area."
(What we know, and still don't, on missing jet)
It did not specify where the relatives would be taken, but the international search effort -- focused on a remote stretch of the southern Indian Ocean -- has seen aircraft and ships depart from Perth, on Australia's west coast.
(Satellite 'pings' revealed missing Malaysia plane's path)
A text message sent to relatives ahead of Najib's announcement said that "we have to assume beyond any reasonable doubt that MH370 has been lost and that none of those on board survived".
"As you will hear in the next hour from Malaysia's Prime Minister, we must now accept all evidence suggests the plane went down in the Southern Indian Ocean," it said, using more direct language than Najib's announcement.
Malaysia Airlines said that the SMS message was used "only as an additional means of communicating with the families".
MH370 vanished on March 8 while flying over the South China Sea en route from Kuala Lumpur to Beijing with 227 passengers and 12 crew on board.
Malaysia believes the plane was deliberately diverted by someone on board. But the absence of firm evidence has fuelled intense speculation and conspiracy theories, and tormented the families of the missing.
The search swung deep into the Indian Ocean last week after initial satellite images depicted large floating objects there, and further sightings of possible debris in the area energised the massive, multinational operation.
It has not yet been confirmed that the debris spotted in the area is from MH370, and officials have voiced caution.
Malaysia Airlines vowed in its statement Monday that the ongoing search for the plane and an intensive investigation into its fate "will continue, as we seek answers to the questions which remain".