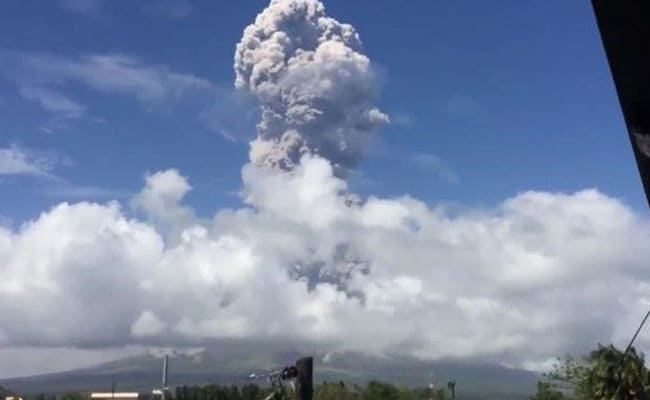 Thousands of Filipino families have been evacuated in the Philippine province of Albay as the country's most active volcano inches toward a possibly major eruption.
A thick gray cloud of ash billowed high above the summit of Mount Mayon on Monday, when officials raised the alert level to four, an indication that hazardous eruption is imminent. The Philippine Institute of Volcanology and Seismology said the volcano has been "exhibiting increased seismic unrest, lava fountaining and summit explosions." The agency also has extended what it calls the "danger zone" to an eight-kilometer radius (nearly five miles) from the volcano's vent.
Footage captured by the agency showed bright orange lava fountains shooting out of the volcano's summit Sunday night.
Renato Solidum, the agency's director, described two possible scenarios during a news conference Monday. Mayon will either continue to ooze out lava with small eruptions in between, like what happened in 2006 and 2009. Or we're seeing the early stages of a major, and far more catastrophic, blast or pyroclastic flow, a deadly combination of lava, pumice, ash and volcanic gas barreling down a volcanic slope and into residential areas.
Compounding the threat is what's called lahar, a potentially deadly mudflow of volcanic material that can happen even without a major explosion. Solidum said heavy rain could drive mud flow in the region and cause landslides near already swollen bodies of water.
Romina Marasigan, spokeswoman for the National Disaster Risk Reduction and Management Council, told reporters last week that nearly 8,300 families - or more than 34,000 people - in the Albay province have been moved to 30 evacuation centers. These include families in areas far from the danger zone but who could be affected by mud flow. Marasigan said it could be weeks before families can return to their homes.
Officials have allotted about 5.5 million pesos (about $100,000) worth of assistance, some in the form of food items, for evacuees, Marasigan said.
Classes in several cities and municipalities and flights to and from some areas of the province have also been suspended, Albay Gov. Al Francis Bichara announced Monday on Facebook. Bichara also urged people to stay indoors and wear face masks.
Mayon first showed signs of unrest January 13, when the volcano produced a grayish ash plume, about a mile and a half high, that drifted southwest and sent ashes down on nearby areas. The Philippine Institute of Volcanology and Seismology raised its alert level to two the following day and then to three hours later.
A state of calamity was declared last Tuesday in the Albay province, about 300 miles from the capital city of Manila in the southeastern part of Luzon island.
Mayon, which draws tourists because of its symmetrical cone shape, rises more than 8,000 feet above the Albay Gulf. It has erupted 47 times since 1616. The deadliest, in 1814, killed more than 1,200 people and buried a village. The most recent deadly eruption was in 1993, when more than 70 people were killed. The eruption continued for two months.
Perhaps a close comparison to recent events was an eruption in 2001, Solidum told reporters, according to CNN Philippines.
Mayon is one of the Philippines' 22 active volcanoes.
(Except for the headline, this story has not been edited by NDTV staff and is published from a syndicated feed.)