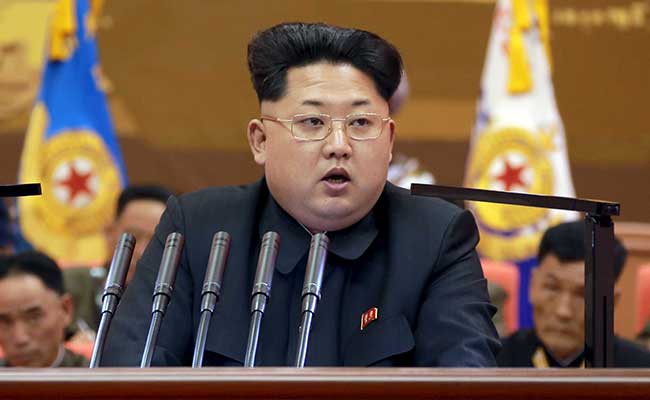 Seoul:
North Korea said today that its main nuclear complex was operating and it was working to improve the "quality and quantity" of its weapons which it could use against the United States at "any time".
The comments follow a declaration by the North in 2013 vowing to restart all nuclear facilities, including the main nuclear reactor in Yongbyon that had been shuttered.
It marked the first acknowledgement since then that the plant, which has been the source of fissile material used in the country's atomic weapons programme, is operational, experts said.
"All the nuclear facilities in Yongbyon including the uranium enrichment plant and 5 MW graphite-moderated reactor were rearranged, changed or readjusted and they started normal operation," KCNA news agency said, quoting the director of its atomic agency.
"If the US and other hostile forces persistently seek their reckless hostile policy towards the DPRK and behave mischievously, the DPRK is fully ready to cope with them with nuclear weapons any time," the director was quoted as saying.
Innovations have been made to improve nuclear weapons "in quality and quantity as required by the prevailing situation," the director was quoted as saying.
Late on Monday, the North's space agency said it was readying a new satellite for launch, indicating it may fire an upgraded long-range ballistic missile timed to a national anniversary next month.
Recent satellite imagery of the Yongbyon complex indicated new activity at two areas there - the main reactor and a chemical laboratory, where spent fuel can be converted to fuel for nuclear arms, according to 38 North, a website run by the US-Korea Institute at Johns Hopkins University.
The activities could be part of work to produce new nuclear material that would be a step toward adding to the country's nuclear stockpile, 38 North said last week.
"It has been nearly three years since their last nuclear test and now may be the time for them to test their evolved technology," said Park Jiyoung, an analyst at the Asan Institute for Policy Studies in Seoul.
North Korea declared in April 2013 at the height of tensions arising from Pyongyang's anger over joint military drills by US and South Korean forces that it will restart all nuclear facilities.
The Yongbyon plant had been shut in 2007 under an agreement with five countries including the United States and China in exchange for diplomatic and economic incentives.
© Thomson Reuters 2015