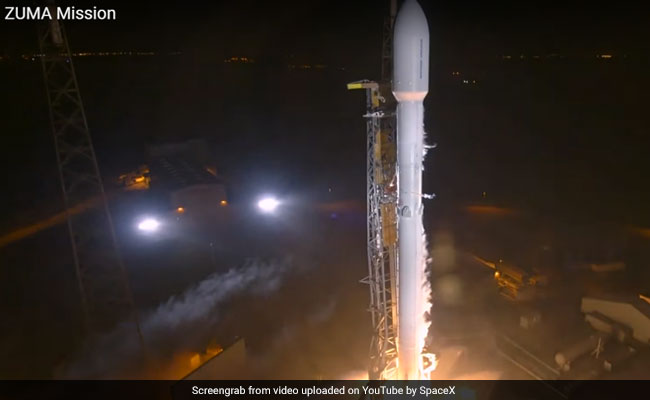 The top-secret satellite known only by a code name "Zuma" was a mystery from the start. Its classified mission was intentionally inscrutable - whether to detect missile launches, spy on adversaries, or to track ship at sea with a space radar.
The satellite was so highly secretive that it was not publicly released what government agency - National Reconnaissance Office? Central Intelligence Agency? - was responsible for it. During the launch last Sunday evening, SpaceX cut short its webcast so that it wouldn't reveal any details of where the satellite was going or what it looked like.
Now there's another mystery: What happened to Zuma?
After reports Monday that the satellite suffered some sort of failure, SpaceX rushed to defend its reputation, denying that it had done anything wrong. Its Falcon 9 rocket "performed nominally," it said.
Then, on Tuesday morning, SpaceX President Gwynne Shotwell issued a more strongly worded statement, saying: "For clarity: after review of all data to date, Falcon 9 did everything correctly on Sunday night. If we or others find otherwise based on further review, we will report it immediately."
Shotwell pushed back on reports that seemed to implicate SpaceX with the satellite's demise, saying "information published that is contrary to this statement is categorically false."
Northrop Grumman, the satellite's manufacturer, said it could not comment on a classified mission. As individual members of Congress began requesting classified briefings about what went, if anything, wrong, Pentagon officials were also mum.
For SpaceX the stakes are especially high - not just because a valuable national security asset valued at hundreds of millions of dollars, or more, that it was hired to launch was possibly lost. But because it had fought so hard for the right to compete for national security launches. After a bitter legal and lobbying battle, the Pentagon certified SpaceX's Falcon 9 for the missions and now is relying on SpaceX to reliably fly its satellites to orbit.
Furthermore, NASA is counting on Elon Musk's company to fly astronauts to the International Space Station, with test flights as early as this year.
SpaceX's resolve and relentless drive was unchanged by the mystery surrounding Zuma (which included the possibility that nothing went wrong, and the satellite was, indeed, on orbit). Last year, the company launched 18 times successfully, a record for SpaceX. This year, it plans to break that record, continuing its disruption of an industry Musk first targeted when he founded SpaceX in 2002.
As critics were quick to call SpaceX's reliability into question, the company rolled its new powerful rocket, the Falcon Heavy, onto the same launchpad at the Kennedy Space Center that hoisted the Apollo astronauts to the moon. An engine test fire was postponed from earlier in the week and was last scheduled for Saturday afternoon. Despite the Zuma mystery, SpaceX vowed to continue with its manifest without delay.
That in itself was a statement: "They're not going to launch again if they think there's a chance it was their fault," said Todd Harrison, a defense analyst at the Center for Strategic and International Studies.
Matt Desch, the chief executive officer of Iridium, a communications satellite company that is one of SpaceX's biggest customers, said in an interview that he "absolutely" had full confidence in SpaceX and that he had no qualms with proceeding with the four launches Iridium has on the Falcon 9 this year.
"We're moving forward with plans for our next launch," he said. "I know there are people who would love SpaceX to be taken down a few notches. And I'd be glad to hold them accountable for things they should be held accountable for. But this isn't one. I believe they weren't really responsible."
---
On Sunday night, the SpaceX's launch appeared to go smoothly. The company cheered a successful liftoff and then the touchdown of its first-stage booster back on land so that it could be flown again, a practice designed to lower the cost of spaceflight. Musk on Monday tweeted out a long-exposure picture of the launch showing its fiery tail to space - and then the return of the booster,which has now become routine for the company.
The Air Force's 45th Space Wing also congratulated SpaceX in a tweet: "What an incredible way to start off 2018 w/the world's 1st successful launch and land of this year!"
The launch was an important one for the California-based company founded nearly 16 years ago. Since its early days, Musk has waged war against the traditional contractors, namely the United Launch Alliance, the joint venture of Lockheed Martin and Boeing, in an attempt to compete for the national security launch contracts, generally worth hundreds of millions of dollars.
For years, Musk proclaimed that SpaceX could save taxpayers millions by offering the Pentagon launches for far less than its chief rival, the United Launch Alliance. Meanwhile, ULA maintained that responsibility for vital national security satellites that cost hundreds of millions should not just be decided on price.
More than 10 years ago, even before it had ever flown a rocket to space successfully, SpaceX sued Boeing and Lockheed in an attempt to block the formation of ULA, which it said was using "strong-armed tactics to demand that the Air Force grant them exclusive long-term contracts." But SpaceX was derided as an "ankle biter" by its competitors, and the lawsuit went nowhere.
In 2014, SpaceX sued again in an attempt to end the nearly decade-long monopoly ULA held on national security launches, arguing that it should be able to compete for the lucrative launch contracts. By that point, SpaceX had been flying its Falcon 9 rocket successfully, and the Air Force settled the case with SpaceX, eventually granting it the certification required for it to compete.
Under mounting pressure from SpaceX, ULA's CEO Tory Bruno vowed to "literally transform" the company to compete - and he also continued to champion ULA's track record of successful launches of more than 100 in a row.
Since the contracts became competitively bid, SpaceX was won two of three contests.
---
But it has also had its setbacks. In 2015, a Falcon 9 rocket blew up while carrying cargo to the space station. Then in 2016, another rocket exploded while being fueled ahead of an engine test. No one was hurt in either explosion, but the payloads, worth millions of dollars, were lost.
In both cases, the company was grounded while it investigated the cause of those problems. As of now, SpaceX is moving ahead with its launch manifest.
"Since the data reviewed so far indicates that no design, operational or other changes are needed, we do not anticipate any impact on the upcoming launch schedule," Shotwell said.
As for Zuma's fate, little is known.
Last week members of Congress began receiving briefings, but were tight-lipped about the classified sessions. U.S. Rep. Mike D. Rogers, R-Ala., chairman of the strategic forces subcommittee, said in a statement that while he couldn't comment on classified matters, "space is a risky business." He said his committee would provide "rigorous oversight that accounts for that risk and ensures that we can meet all of our national security space requirements as the Air Force looks to competitively procure space launch services in the future."
Harrison, the defense analyst, said that SpaceX is in a frustrating position because it is limited in what it can say publicly about what happened.
"It's a particular nightmare if nothing went wrong on their part and they can't prove it because of the classified nature of the mission," he said.
(Except for the headline, this story has not been edited by NDTV staff and is published from a syndicated feed.)