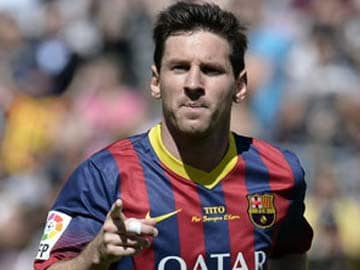 Jerusalem, Israel:
Football star Lionel Messi has been dragged into the ongoing Israel-Gaza conflict, two weeks after the Argentinian wrote in a Facebook post that he was "deeply saddened" by the loss of young lives with a photo of an injured Palestinian boy.
Israeli social media users have exhorted Messi to acknowledge the death of Daniel Tregaron, a four-year-old Messi fan who was killed yesterday by a mortar fired from Gaza.
"As a father and a UNICEF Goodwill Ambassador, I am terribly saddened by the images coming from the conflict between Israel and Palestine, where violence has already claimed so many young lives and to injure countless children," Messi wrote in his Facebook post.
Tregaron was the first Israeli child to be killed since the beginning of the Operation Protective Edge on July 8.
Messi also plays for the Qatar Airways-sponsored FC Barcelona.
Daniel's images on social media show him wearing a Messi jersey.
Seeking a response from Lionel Messi, Israelis shared photos of the four-year-old in his Messi jersey, and tagged the soccer player.
"Hey Leo Messi, take a look at that boy, wearing the national jersey of the best player in the world," Liran Cohen wrote in a Facebook post yesterday, tagging Messi and FC Barcelona.
On Twitter, Lior Vaknin, along with many other Israelis, shared photos of Tregerman, also making sure to tag Messi.
"Daniel was killed by a terror organisation your team's #1 sponsors is sponsoring," a post read.
"The mortar that killed Tregerman was fired by Hamas, the terrorist organisation that rules Gaza.
The Strip has been a recipient of generous donations from Qatar", said another.
At least 2,097 Palestinians have been killed while on the Israeli side 68 people have died so far.