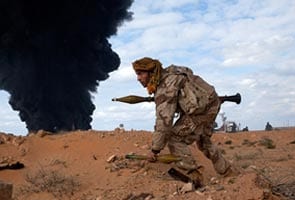 Tripoli:
Libyan Deputy Foreign Minister, Khaled Kaim, told journalists in the capital Tripoli on Friday that the Libyan army was being withdrawn from fighting in the town of Misrata, with the task of subduing rebels in the area being handed over to local "tribes".
He said the army tactic had been to use "a surgical solution" but that had not worked because of NATO airstrikes.
"We will leave it to the tribes around Misrata and Misrata's people to deal with the situation there in Misrata," he said.
Kaim said that tribal leaders had warned the army to step aside if it could not retake the city and they would fight the rebels if they don't surrender.
He did not say when the military would pull back from Misrata or when the armed tribesmen would move in.
NATO officials have recently said that army tactics against rebels in the area had changed, with the army adopting some rebel tactics, out of uniform and using un-marked or civilian vehicles.
The action came a day after the US began flying armed drones to bolster NATO airstrikes, and it was suggested that it was the drones which had prompted this tactic change, to make targets even more difficult to identify.
Kaim was dismissive of a visit by US senator and former presidential candidate John McCain to the rebel headquarters in the eastern city of Benghazi on Friday.
He said it showed "that the American administration has run out of options".
"They are claiming that they are protecting civilians, but what they are doing, they are siding with the rebels," he said.
McCain called for increased military support for Libya's rebels, including weapons, training and more airstrikes.