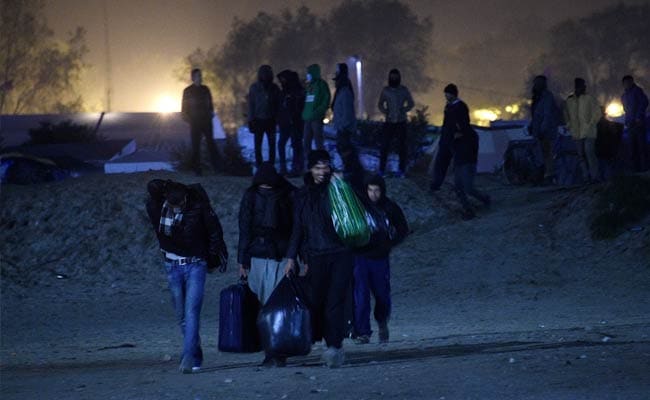 Calais:
A sea of migrants lined up at reception centres set up by French authorities near the Calais migrant camp, ready to be transferred by buses to refugee centers all over France.
Better known as 'the jungle', this sprawling camp has over 6,000 inhabitants, according to official sources, but volunteer organisations say there are about 9,000 refugees, who have escaped violence-hit countries like Syria, Afghanistan and Iraq.
It is located on the outskirts of the Calais port town, which has been key transit point for refugees trying cross over to Britain via the Channel tunnel.
Most migrants were worried that the evacuation by the government is nothing but an administrative trap and many feared deportations. Not everyone is convinced that French authorities will keep their promise to give asylum.
Speaking to NDTV, a group of six Afghans, all men in their 30s, said that they wanted to go together where ever they went. "We don't know where we are going, what we are going to do. They could just throw us into another jungle. We don't know whether to trust them".
Azizullah, 34, said that he was unable to sleep all night, worried about where he'd be sent. He said most people in the camp were hard workers and they were willing do any job. "They need to give us an opportunity, but I believe their laws for foreigners are very strict"
Some were more defiant. Sami, 24, said, "If they give us asylum and proper alternatives, we will stay there. If not, we will come back and create another jungle."
While unaccompanied children hoped they'd be sent to Britain, most young adults said they wanted to go to cities rather than to small towns in quiet corners of France.
Sociologist Yasmine Bougga told NDTV, "We've seen villages in Italy that were dying. These were small villages with only elderly people and the migrants brought good dynamics there. Let's hope that happens in France too''
Volunteers in Calais say the only lasting solution would have to come from Britain where most migrants want to go.
"We should have put more pressure on the UK to taken in unaccompanied minors", said François Guennec of Auberge des Migrants. "Britain should play its part in solving the Europeon migrant crisis."
Scuffles broke out as riot police surveyed the restless crowds closely. 1,200 security personnel were deployed in and around the jungle. On Sunday night, angry migrants threw bricks at the fence behind which police vehicles were parked. The police responded by tear gassing them.
The bulldozers will start moving in on Tuesday to start the demolition of the Calais jungle. Those who refuse to leave are likely to be evicted by force.