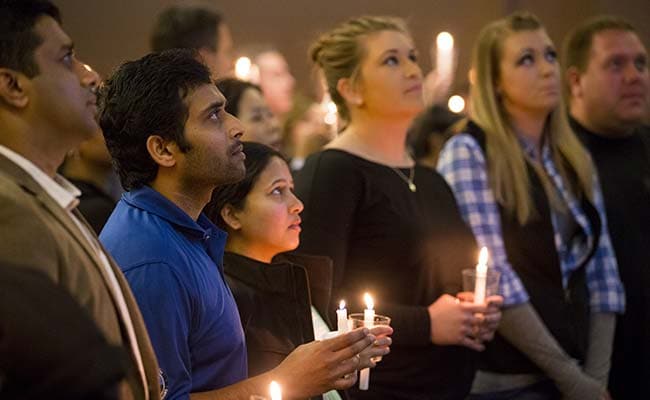 Washington:
Sixty-seven US lawmakers have urged the Department of Justice to treat the attacks against ethnic minorities like Indian-Americans as hate crimes and called on President Donald Trump to end his "inflammatory rhetoric".
On February 22, 32-year-old engineer, Srinivas Kuchibhotla, was shot dead at a bar in Kansas. The alleged assailant, a 51-year old US Navy veteran Adam Purinton, had opened fire at him and his friend Alok Madasani, yelling "get out of my country". Mr Madasani survived the attack and Mr Purinton was soon arrested.
A 39-year-old Sikh man, Deep Rai, was injured in the city of Kent in Washington on March 5 after an unidentified man shot at him outside his home and allegedly shouted "go back to your own country".
The incident took place shortly after 43-year-old Harnish Patel, a store owner of Indian-origin, was shot dead in his yard in Lancaster, South Carolina.
The lawmakers, led by senior Democratic leader Joe Crowley and Indian-American Pramila Jayapal, introduced a resolution in the House of Representatives yesterday pointing out instances of racially-motivated violence in the country in the recent past.
Expressing sympathy for the victims of these attacks, the resolution asks the Department of Justice to carry out thorough hate crime investigations, and urges Trump to end his policies "which have created a climate of fear in communities across the country".
"This resolution is an act of resistance to Donald Trump's hateful vilification and 'otherising' of immigrants and communities of colour," Jayapal said.
The resolution notes that attacks and threats have increased against minority communities like Hindus, Muslims, Arabs, South Asians, Sikhs, and Jewish Americans.
On March 5, Governor of Kansas, where Mr Kuchibhotla was shot dead in an apparent hate crime, Sam Brownback said that "we stand with them in the face of this crime" during a meeting with the Indian community.
"The hateful actions of one man don't define us. Kansas welcomes and supports Indian community," Mr Brownback tweeted shortly after the meeting.
(With inputs from PTI)