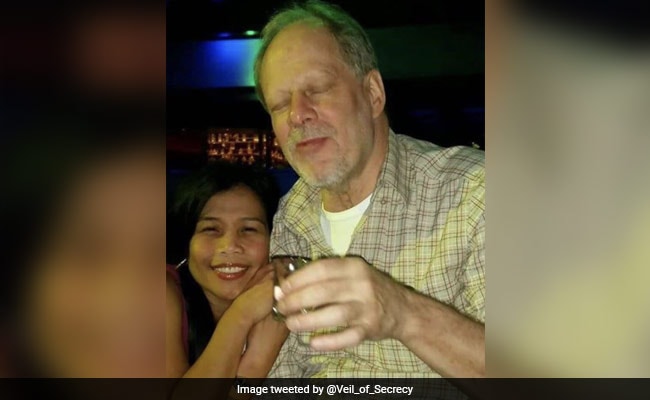 Highlights
Las Vegas shooter Stephen Paddock lived a quiet life for years
Professional gambler, frequented casinos with girlfriend, neighbours say
He opened fire late Sunday - killing over 50 people at a music festival
Before he opened fire late Sunday - killing at least 50 people at a country music festival on the Las Vegas Strip - the gunman Stephen Paddock lived a quiet life for years in a small town outside Las Vegas.
A retired man, Paddock, 64, would disappear for days at a time, frequenting casinos as a professional gambler with his longtime girlfriend, neighbors said. Relatives also said Paddock had been quietly living out his retirement years, visiting Las Vegas to gamble and take in concerts.
"We know nothing. If you told me an asteroid fell it would mean the same to me. There's absolutely no sense, no reason he did this," said his brother Eric Paddock. "He's just a guy who played video poker and took cruises and ate burritos at Taco Bell. There's no political affiliation that we know of. There's no religious affiliation that we know of."
In a brief interview Monday morning outside his home in Orlando, Eric Paddock said the FBI were inside interviewing family at the moment.
For several years, the gunman lived with his girlfriend, Marilou Danley, in a retirement community in Reno, Nevada, neighbors said. They said they interacted with Danley but not Paddock, whom they described as extremely standoffish. Danley told residents there that Paddock was a professional gambler, explaining their long absences from the neighborhood.
Harold Allred, who lives up the street from the couple, said his wife often ran into Danley in exercise classes or social gatherings. Allred said he and his wife found Danley unremarkable, though perhaps a little odd, and didn't know Paddock. "He was reclusive," said Allred, 66. "We never met him."
Paddock and Danley had another home in Mesquite, Nevada, which also meant they went away regularly, said their neighbors.
Diane McKay lived next door to Paddock and Danley until July, when McKay moved to a different community, but said she only ran into Danley occasionally when both women happened to be pulling weeds from their front yards. Danley wasn't forthcoming about her life, and Paddock was aggressively unfriendly, McKay recalled. She only saw him in the mornings, when he went to the clubhouse to work out. Occasionally, he would open the garage door, revealing a large safe the size of a refrigerator. Other than that, the couple kept their blinds closed.
"He was weird. Kept to himself," said McKay, 79, who described Paddock as small but in pretty good shape. "It was like living next to nothing . . . You can at least be grumpy, something. He was just nothing, quiet. He never went out in back and enjoyed the backyard, nature. They had a little backyard, 17 feet to the fence and hill. But the blinds were always closed."
McKay said the couple was gone for six months last year, which she thought was for a gambling trip.
Paddock's family said there was nothing in his past that would suggest violence. Family members said that Paddock spent much of his retirement in recent years staying in hotels in Las Vegas and gambling. They said he listened to country music and went to concerts at Vegas hotels, similar to the one Sunday night where he opened fire on a crowd of concertgoers.
Public records show Paddock was a licensed pilot who owned two planes. And he had a hunting license from Alaska.
"We are in complete shock, bewilderment and horror. We have absolutely no idea how in the world Steve did this. Absolutely no concept," said one relative, who spoke on the condition of anonymity to avoid hurting other relatives. "There was nothing secret or strange about him."
Property records show he had homes in both Mesquite, Texas, and Mesquite in Nevada. He bought his current home in Mesquite, Nevada, in 2013, and appears to have been living there ever since.
Las Vegas police said authorities were in the process of searching Paddock's home in Mesquite, Nevada, on Monday morning. Quinn Averett, a spokesman for the Mesquite Police Department said Paddock was unknown to local authorities in the city 80 miles northeast of Las Vegas. Mesquite police have no recorded interactions with Paddock.
Las Vegas police said the same.
"We have no investigative information or background associated with this individual that is derogatory," said Sheriff Joseph Lombardo of the Las Vegas Metropolitan Police Department. "The only thing we can tell is he received a citation several years ago, that citation was handled as a matter of normal practice in the court system."
After the shooting, Paddock was found dead by officers on the 32nd floor of the Mandalay Bay Resort and Casino, Lombardo said during a news briefing.
Police believe Paddock was a "lone wolf" attacker. Lombardo did not give further details, however, on Paddock's background or possible motivation.
"We have no idea what his belief system was," Lombardo said. "Right now, we believe he was the sole aggressor."
Paddock, who arrived at the hotel on Thursday, was found with more than 10 rifles, Lombardo said. Relatives said they knew Paddock owned guns but believed they were legal.
On Monday morning, police released a picture of Danley, saying they were searching for her as a person of interest. They later said they she was out of the country, and has been located and detained. Authorities called her a companion of Paddock.
Authorities described Danley as Asian, 4 foot 11 inches tall and weighing 111 pounds.
In a statement, Lockheed Martin, the defense giant, said that Paddock worked for them for three years in the 1980s.
"Stephen Paddock worked for a predecessor company of Lockheed Martin from 1985 until 1988," the company said in a statement. "We're cooperating with authorities to answer questions they may have about Mr. Paddock and his time with the company."
The shooting on Sunday was the deadliest mass shooting in modern American history, killing at least 50 people and injuring hundreds of others.
(This story has not been edited by NDTV staff and is auto-generated from a syndicated feed.)