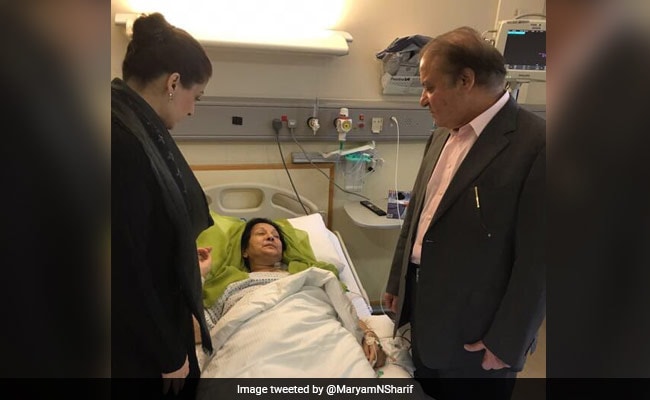 London:
Kulsoom Nawaz, the wife of Pakistan's ousted prime minister Nawaz Sharif, has undergone a third surgery for her throat cancer at a London hospital.
Nawaz Sharif and his daughter Maryam Nawaz visited the hospital and inquired about her health. Maryam Nawaz appealed to the people of Pakistan to pray for her health and fast recovery.
Maryam Nawaz tweeted a short video clip which showed Sharif holding his wife's hand and helping her walk towards the hospital.
Kulsoom Nawaz last Sunday won Lahore's NA-120 seat which was seen as referendum on the disqualification of Nawaz Sharif by the Supreme Court in the Panama Papers case.
The seat fell vacant after Supreme Court disqualified 67-year-old Nawaz Sharif on July 28 in the case.
Since then, the whole Sharif family is currently in London. Pakistan media has speculated that the former premier, his sons, daughter and son-in-law Muhammad Safdar may not return to the country to face corruption and money laundering cases against them in the accountability court.
The ruling PML-N however dismissed the reports saying Sharif is ready to face the court in the National Accountability Bureau (NAB) cases. It said Nawaz Sharif has extended his stay in London because of the health condition of his wife.
"Nawaz Sharif will only return after his wife's health improves," the party said.
Federal Environment Minister Mushahidullah Khan said Sharif was not afraid of going to jail.
"No one should make Sharif afraid of jail. He had seen jails and exile in the past. He will return and face all NAB cases," he said.
Nawaz Sharif left for London on August 30 to see his 67-year-old ailing wife who was diagnosed with early-stage lymphoma (throat cancer) last month. Quoting doctors, the Sharif family had said that Kulsoom's cancer is curable.
The second surgery was to take out diseased lymph nodes from her chest, media reports said.
The first surgery was on the side of her neck while the latest surgery will be the most comprehensive yet and doctors decided to conduct it after she responded well to the first two rounds, it said.